Award-Winning Actor Michael Smiley (Luther, Benny "Deadhead" Silver) Stars in Darkly Comic Drama Series
Set During Real Life "Post-Mortem Photography" Period in 1880s-era Ireland
DEAD STILL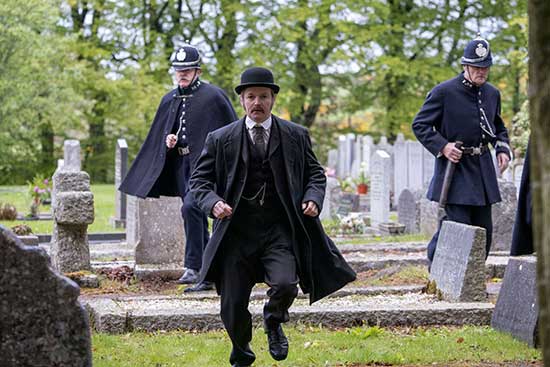 Exclusive U.S. Premiere on Acorn TV on Monday, May 18 with Two Episodes,
Followed by Weekly Episodes Through June 15Being compared to Penny Dreadful, Ripper Street, and Murdoch Mysteries, this new Acorn TV Original miniseries Dead Still is a fresh take on the murder mystery genre – it takes place during the "post-mortem photography" period in Victorian Ireland– before cameras became omnipresent and cheaper, memorial photographers made a living taking portraits of the recently deceased to commemorate them. Not very well known these days, but many of these photos even had grieving families posing alongside their late family members before they were buried.
The memorial photographer in our series is Brock Blennerhasset (award-winning actor Michael Smiley, Luther), who arranges these stylized portraits in Dublin, with the help of his eager new assistant, Conall Molloy (Kerr Logan, Game of Thrones, Alias Grace), and sharp-witted niece, Nancy (Eileen O'Higgins, Mary Queen of Scots.) But when a series of murders threatens to sully Blennerhasset's reputation, a tenacious detective (Aidan O'Hare, Jackie) drags him into an investigation of Dublin's criminal underbelly. With a killer on the loose and a black-market trade of illicit pictures (many resembling Brock's) growing ever more dangerous, will Brock save his job or end up like one of his subjects? The series is full of expansive, breathtaking visuals filmed in and around Dublin, many of them on-location in 100-year-old Irish country homes, and per the producers, very few TV dramas have depicted Ireland during the Victorian era.
Dead Still premieres exclusively in the U.S. on Acorn TV on Monday, May 18 with two episodes, followed by one new episode every Monday through June 15.
As its next offbeat British drama, Acorn TV introduces a darkly comic Irish murder mystery series set during the Victorian era of "post-mortem photography"– a real-life trend in European mourning culture, when the recently deceased were captured in commissioned portraits. The Acorn TV Original series DEAD STILL follows the strange adventures of renowned 1880s Dublin memorial photographer Brock Blennerhasset (British Independent Film Award winner Michael Smiley, Luther, who played hacker Benny "Deadhead" Silver) and his loyal assistant Conall Molloy (Kerr Logan, Game of Thrones, Alias Grace), as they visit grieving families for photo assignments, while a tenacious detective investigates a series of local murders and eyes possible disturbing connections between them and Brock. Blending mystery and drama with delightfully macabre humor, DEAD STILL features an ensemble of acclaimed international actors including Smiley, Logan, Eileen O'Higgins (Mary Queen of Scots, Brooklyn) and Aidan O'Hare (The Dublin Murders, Jackie). DEAD STILL exclusively premieres in the U.S. on Acorn TV with two episodes on Monday, May 18, followed by 1 new weekly episode every Monday through June 15.
Once a photographic prodigy in Ireland and a pioneer of the daguerreotype (an early photographic method which captures an image on an iodine sensitized silvered plate), Brock is now struggling to keep up with the times. With cameras becoming cheaper and photographic studios starting to flourish in Dublin around 1880, the practice of memorial portraiture is on the wane. Brock tries to revive his business after an accident, requiring the help of his sharp-witted niece, Nancy (O'Higgins) and new, eager assistant and former gravedigger Molloy (Logan). Their working relationship develops after a rocky start – Brock takes a while to warm up to the two of them, since he's known for being remote and unemotional, thus much better in dealing with the dead than the living.
Meanwhile, it appears someone more sinister is getting in on the death photography game. Detective Frederick Regan (O'Hare) investigates a series of murders in Dublin's criminal underbelly and concludes that the serial killer may be cashing in on a taste for a different type of memorial imagery — pictures of people in their death throes. As the body count begins to escalate, Brock, Molloy and Nancy must stop a murderer intent on ending not just their business, but their lives.
DEAD STILL also features Jimmy Smallhorne (Taken Down, Clean Break), Mark Rendall (Departure, Versailles), Peter Campion (Derry Girls, Kat and Alfie: Redwater), and Martin Donovan (Big Little Lies, Fahrenheit 451). Directors are Imogen Murphy (Cry Rosa, Can't Cope Won't Cope) and Craig David Wallace (Todd and the Book of Pure Evil, Netflix's Slasher season 1, Murdoch Mysteries)
Produced by Deadpan Pictures in Co-Production with Shaftesbury Films for RTE and Acorn Media Enterprises In association with ZDF Enterprises. Funded by the Broadcasting Authority of Ireland with the Television Licence Fee. Produced in association with Rogers Media Incorporated with the Support of Investment Incentives for the Irish Film Industry provided by the government of Ireland with the participation of The Canadian Film or Video Production Tax Credit funded by the Government of Canada. An Ireland – Canada Treaty co-Production. Developed with the assistance of Fís Eireann/Screen Ireland with the support of the Creative MEDIA Programme of the European Union.
U.S. Premiere: Monday, May 18 (2 episodes, followed by weekly episodes through June 15) Eps: 6 (46 mins. each)
____________________________________________________________________________________________________________
Acorn TV's DEAD STILL– Short Episode Descriptions
Episode 1: Photochemistry (May 18)
In Victorian-era Ireland, portrait photographer Brock Blennerhasset has made a successful career out of commemorating the recently deceased. When one of his photographic plates goes missing—putting his reputation on the line—Blennerhasset hires eager gravedigger Conall Molloy to help find it.
Episode 2: Development (May 18)
Blennerhasset and Molloy photograph a young boy who drowned, but when a heavy storm descends upon the area, it forces them to stay at a house that may be haunted. Desiring a more exciting social life, Blennerhasset's niece, Nancy, attends a party, though her brother, Henry, puts a damper on the evening.
Episode 3: Daguerreotype (May 25)
When Blennerhasset discovers that some of his camera equipment has gone missing, he and Nancy travel to an unsavory part of Dublin to track down Molloy, who has also disappeared. Meanwhile, Detective Regan follows up on a lead regarding the illicit photos circulating in Dublin's black market.
Episode 4: Camera Obscura (June 1)
When Nancy's grandmother dies, Molloy is introduced to Blennerhasset's difficult family during their memorial photography session. After a meeting with Henry's eccentric friends, Molloy brings Blennerhasset and Nancy to a séance to capture a photograph of a ghost.
Episode 5: Snuff (June 8)
After yet another dead body turns up, Regan tries to piece together the events of the séance and discovers Blennerhasset and his associates were in attendance. Blennerhasset and Molloy take a job out in the country, but when Molloy realizes the illicit photo album is in their possession, they rush back, worried that they could be suspects in a crime.
Episode 6: Only Memories Remain (June 15)
Reeling from a certain murder, Blennerhasset sends Molloy and Nancy away, but the pair refuses to give up on him. When his life is threatened, Blennerhasset reveals he knows who created the album, but his silence has already put Nancy in danger.