Massacre Video's February 2020 Release of THE DEVIL – The classic worm-puking Taiwanese gorefest, completely restored and UNCUT for the first time ever!
The Devil
1 Blu-ray disc
Label: Massacre Video
Preorder: 1/14/2020 Release: 2/10/2020
MSRP: $34.95
UPC: 663390003541
Catalog #: MVB-010
Genre: Horror
Color, 86 minutes, in Mandarin Chinese
Region All.
Anamorphic Widescreen 2.35:1
PCM Stereo
Production year: 1981 in Taiwan
Director: Jen-Chieh Chang
Cast: Shao Tung Chou, Bao-Yu Wang, Hung Lieh Chen
Hitting you like a brick to the face, this simple story of a conman with eyes on a family's hotel business becomes a horrifying fever dream of ghosts and gore: the gruesome visage of a vengeful spirit seeks her unseen murderer; a supernatural virus fills its victims with squirming, slithering things which burst and ooze from their mouths and flesh; while a witch offers equally grisly and unsettling cures.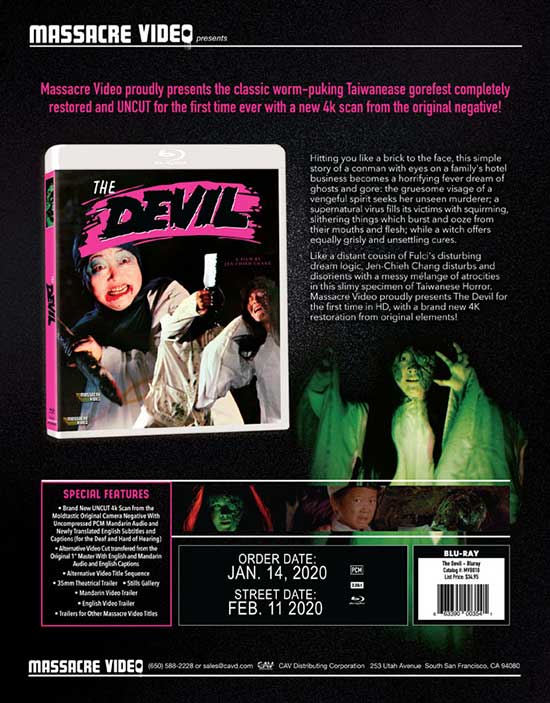 The Devil by Jen-Chieh Chang Original Trailer – Massacre Video from Massacre Video on Vimeo.
Like a distant cousin of Fulci's disturbing dream logic, Jen-Chieh Chang disturbs and disorients with a messy mélange of atrocities in this slimy specimen of Taiwanese Horror. Massacre Video proudly presents THE DEVIL for the first time in HD, with a brand new 4K restoration from original elements!
SPECIAL FEATURES: •Brand New UNCUT 4k Scan from the Moldtastic Original Camera Negative.
•Uncompressed PCM Mandarin Audio.
•Newly Translated English Subtitles and Captions (for the Deaf and Hard of Hearing).
•Alternative Video Cut transferred from the Original 1″ Master With English and Mandarin Audio and English Captions.
•Alternative Video Title Sequence.
•35mm Theatrical Trailer.
•Mandarin Video Trailer.
•English Video Trailer.
•Stills Gallery.
•Trailers for Other Massacre Video titles.