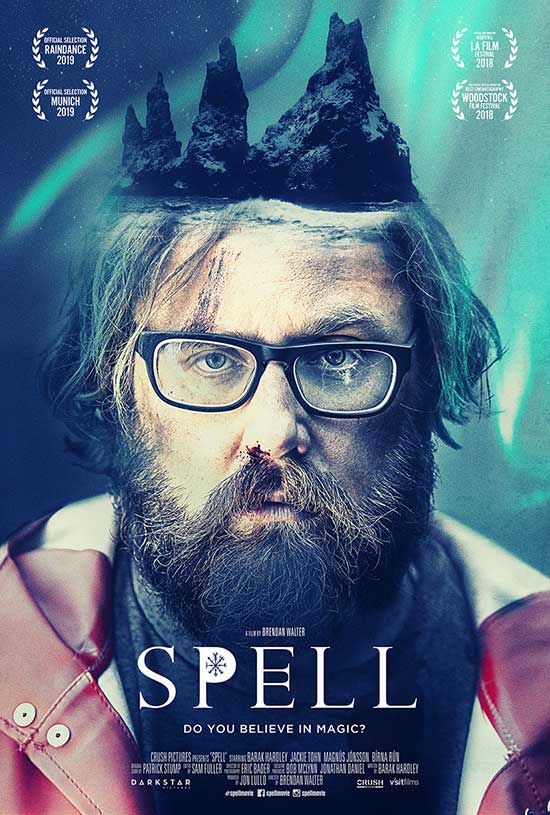 SPELL stars Barak Hardley (THE MORTUARY COLLECTION), Jackie Tohn (GLOW), Magnus Jonsson (TAKA 5), and Birna Rún Eiríksdóttir (CASE), and is currently in select theaters ahead of it's upcoming release on VOD November 19th. Interview opportunities are available, interested?
Featuring a new original song and forthcoming video from Weezer, a fun cameo from Weezer's frontman Rivers Cuomo, and a "sparse, icey" (Billboard.com) score by Fall Out Boy's Patrick Stump, the surreal tale made its world premiere at the Los Angeles Film Festival to great acclaim, bringing home the award for "Best Ensemble Cast."
The bizzaro thriller set in the wilds of Iceland marks the feature directorial debut of writer/director Brendan Walter – whose previous work primarily includes music videos for artists such as Panic! At the Disco, Weezer and Green Day. Spell is the first film production of Crush Pictures, a film extension of the music management company Crush Music.
Following the unexpected death of his fiancee, an American illustrator embarks on a soul-searching journey across the isolated Icelandic countryside, only to become drawn into a supernatural world of ancient runes and secrets – unless it's all in his head.
comedy/drama/thriller – USA – 87 minutes
In theaters beginning November 1, 2019 * On VOD November 19, 2019