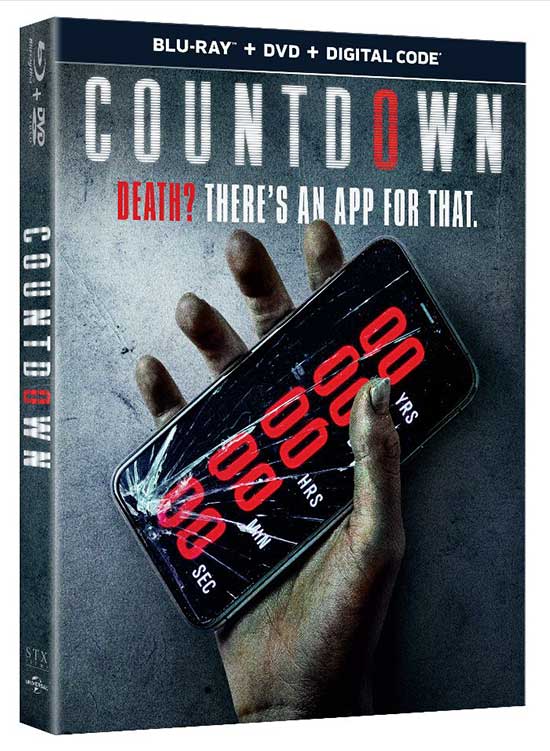 What if your phone could tell you when you're going to die? Would you want to know? There's a killer new app in COUNTDOWN, the terrifyingly original and inventive horror-thriller arrives on Digital January 7, 2020 and on Blu-ray™️, DVD and On Demand January 21, 2020 from STXfilms and Universal Pictures Home Entertainment.
Guaranteed to keep you on the edge of your seat, the "fun and thrilling" (Shannon McGrew, Nightmarish Conjurings) film follows a young nurse (Elizabeth Lail, "You"), who downloads an app that claims to predict exactly when a person is going to die. With only three days left to live and death closing in, she must find a way to save her life before time runs out. Combining "jump scares around every corner" (Kimber Myers, Los Angeles Times) and intense suspense, COUNTDOWN chronicles a frightening twist on the consequence of technology's invasion of our lives.
Lail leads the contemporary horror flick alongside a fantastic supporting cast, including Jordan Calloway ("ER"), Talitha Bateman (Love, Simon), Tichina Arnold ("Everybody Hates Chris"), P.J. Byrne (The Wolf of Wall Street) and Peter Facinelli (The Twilight Saga franchise). Perfect for horror fans with bone-chilling thrills throughout and from the producer behind A Nightmare on Elm Street, COUNTDOWN is the writing and feature directorial debut of Justin Dec ("Boats") and is produced by John Rickard (A Nightmare on Elm Street,) Zack Schiller (Escape Plan), John Morris (Instant Family), and Sean Anders (Instant Family).
COUNTDOWN WILL BE AVAILABLE ON BLU-RAY™, DVD AND DIGITAL. 
Blu-ray™️ delivers a pristine HD picture and theater-quality surround sound.
DVD offers the flexibility and convenience of playing movies in more places, both at home and away.
Digital lets fans watch movies anywhere on their favorite devices. Users can instantly stream or download.
Film Website: www.countdown.movie/
UPHE Website: www.countdown.movie/
Trailer: uni.pictures/countdowntrailer
Facebook: www.facebook.com/CountdownMovie/
Twitter: twitter.com/CountdownMovie
Instagram: www.instagram.com/countdownmovie/
#CountdownMovie