New from Cleopatra Entertainment…
via MVD Entertainment Group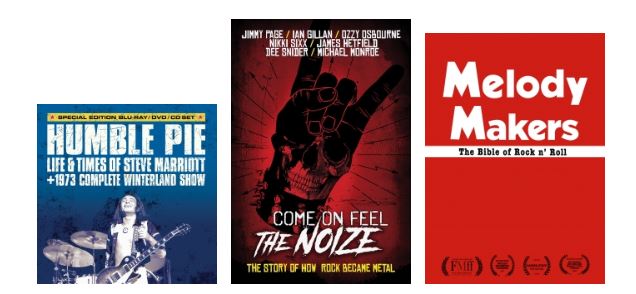 The Life and Times of Steve Marriott is a compelling documentary about one of rock's most dynamic, exciting, and sadly; unsung heroes of rock and roll. Showcasing revelatory interviews with Humble Pie's Peter Frampton, Jerry Shirley, and Greg Ridley, the Black Crowes's Chris Robinson, Rick Nielsen and Bun E. Carlos of Cheap Trick, John Waite, Bad Company/Free drummer Simon Kirke, Quiet Riot's Kevin Dubrow, Ricky Byrd and Marriott historian John Heller among others, the documentary vividly tells the tale of Steve's tragically short life via the use of previously unseen photos, memorabilia, and home movies. Rare fiery performance footage of The Small Faces and Humble Pie frames the action, drawing the viewer closer to this wonderful and underrated artist.
Come On Feel The Noize: The Story Of How Rock Became Metal features exclusive, long-lost live material from rock's most iconic bands and artists, as well as all-new original interviews with the living legends themselves. This film is an access-all-areas backstage pass to Heavy Metal and Hard Rock history. Delve into the rich history of Heavy Metal: from its scandalous origins in the 1960s to its heyday in the 1980s, from its glam phase in the 1970s to its indestructible present in 2017. A backstage pass into the history of how Rock became Heavy Metal.
Melody Makers is a stunning, award winning film that goes behind the scenes to explode the myths, honor the legends, and reveal the incredible stories and never-before-seen photographs of rock giants like Mick Jagger, David Bowie, Elton John, Bob Dylan, Jimmy Page, Jimi Hendrix, Ray Davies, Frank Zappa, Patti Smith and many, many others. This tell-all reveals anecdotes and unpublished photos from the world's most influential music publication, Melody Maker magazine with its intimate access to legendary rock bands including The Rolling Stones and the Beatles, Pink Floyd, Queen, The Who, Led Zeppelin, The Animals and on and on. At the heart of this film is Melody Maker's head photographer, Barrie Wentzell who takes us along on an intimate journey with his colleagues into the world of rock icons. These journalists, with cameras in hand, had free rein and were creatively involved with the artists, something unheard of today. The film captures this unique period telling the story behind the magazine's rise and fall, showing first hand how the artists, the record companies and journalists came to move a generation. The magazine was a "must read" during its time, now the movie is a "must see" for musicians, music fans and photo buffs alike!