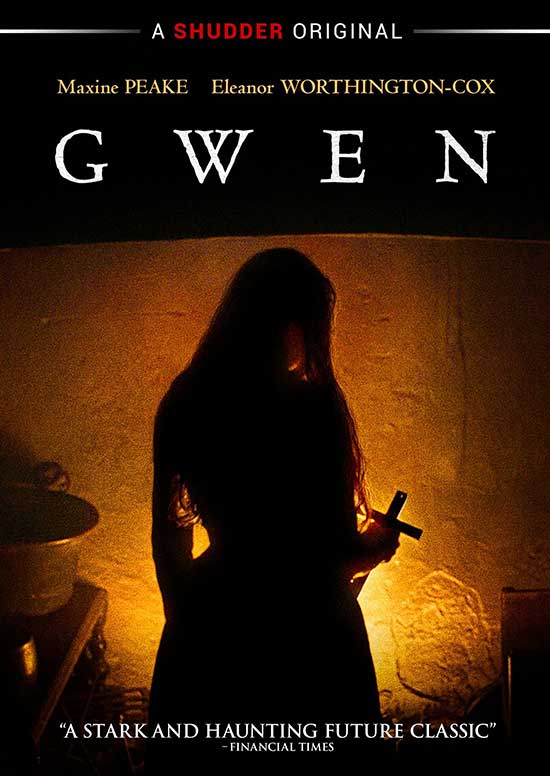 Shudder and RLJE Films (NASDAQ: RLJE) will release GWEN on October 8, 2019 on DVD and Blu-ray.  Written and directed by William McGregor ("Misfits"), the film stars Eleanor Worthington-Cox (Maleficent) and Maxine Peake (The Theory of Everything).  RLJE Films will release GWEN on DVD for an SRP of $27.97 and Blu-ray for an SRP of $28.97.
In the film, Gwen is a young girl whose life seems to be collapsing around her. Struggling with her mother's mysterious illness, her father's absence and a group of angry villagers threatening to take her farm, Gwen must find the strength to guide her family through the darkness. But as a malevolent presence begins to take grip of her home, it becomes apparent there is a greater evil that may be too strong to overcome.
Box art link: www.dropbox.com/sh/6072k373ixss3ik/AAAtNMAIn4J_NGUUJxorGaPva?dl=0
GWEN DVD and Blu-ray include the following bonus features:
An interview with Maxine Peake
An interview with Eleanor Worthington-Cox
Our supply is limited for GWEN, so please request your copy for review today!  We would also appreciate inclusion of the title in your DVD and Blu-ray listings for October 8, 2019.