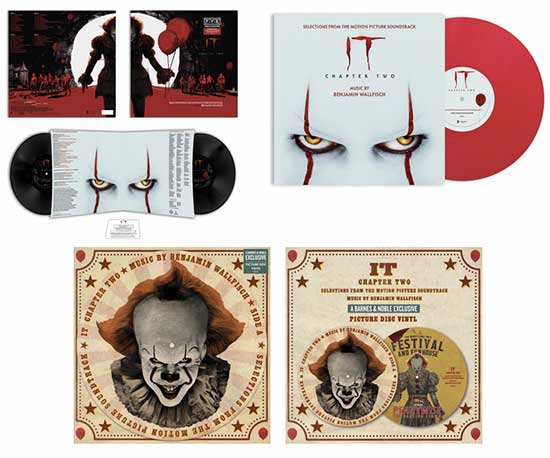 WaterTower Music announced today's digital release of the soundtrack to "IT Chapter Two", the conclusion to the highest-grossing horror film of all time, director Andy Muschietti's critically acclaimed IT. The film is slated for release in theatres and IMAX on September 6, 2019, and features new music by Golden Globe®, Emmy®, Ivor Novello® and World Soundtrack Award-nominated composer Benjamin Wallfisch (Blade Runner:2049, Shazam!), who delivered an ambitious album of 45 tracks recorded with a 100 piece orchestra and 40 piece choir.
Wallfisch reflected on his return to continue the work he began with Muschietti on the first installment of the film. "Andy has created such an ambitious and extraordinary movie in IT Chapter Two, with an incredible scope on every level. One of our earliest discussions for the new score was how we could take what we did for the first movie and give it more scale and ambition – to reflect the scope of the film. To start with, we used a much larger orchestra and choir and also created several new themes; when we occasionally reprise moments from the first score, we re-recorded them with more complex and ambitious arrangements, like the music itself had gone through 27 years of maturing. But the most exciting challenge was how to develop the original themes and create new ones that fit alongside them. There was a lot more music required, which really allowed room for the original themes to develop and evolve in a way driven by the emotional complexity of how The Losers Club grapple with inner demons from the past and painful memories and ultimately unite to confront their biggest fears. Pennywise is even more vengeful and flagrant this time, and the music had to also reflect that increased darkness, whilst never losing sight of the adventure and emotion that are at the core of the movie. It was such a joy to reunite with my good friend Andy Muschietti to help bring this story home – the movie is a true masterpiece from the filmmakers and I'm so honored to have had the opportunity to be involved," says Benjamin.
The
"IT Chapter Two" Original Motion Picture Soundtrack
is now available for streaming and digital purchase. Double LP vinyl with full album digital download, Single LP colored vinyl and Picture Disc vinyl versions are scheduled for release on December 6 and will soon be available for preorder.
About Benjamin Wallfisch:
Composer of David F. Sandberg's box office #1 film Shazam!, Andy Muschietti's IT, the most successful horror film of all time, and co-composer of Denis Villeneuve's acclaimed Blade Runner: 2049 (with Academy Award winner Hans Zimmer), Benjamin Wallfisch has worked on over 75 feature films and has received Golden Globe®, BAFTA®, two-time GRAMMY® and Emmy® nominations.
Other recent projects include Neil Marshall's Hellboy, Academy Award Best Picture nominee, Hidden Figures directed by Ted Melfi (in collaboration with Pharrell Williams and Hans Zimmer) and David F. Sandberg's box office hits Annabelle: Creation and Lights Out. On the invitation of Zimmer, he wrote 'Variation 15', based on Elgar's 'Enigma' Variations, for Christopher Nolan's Dunkirk. Benjamin also recently received a Primetime Emmy nomination in the "Outstanding Music Composition for a Documentary Series or Special" category for his score in Hostile Planet, a six-part series for National Geographic.
A member of the BAFTA® Academy since 2009, Benjamin was appointed an Associate of the Royal Academy of Music, London in 2014. In 2017, he was invited to join the Academy of Motion Picture Arts and Sciences.
About IT Chapter Two:
Evil resurfaces in Derry as director Andy Muschietti reunites the Losers Club in a return to where it all began with "IT Chapter Two," the conclusion to the highest-grossing horror film of all time. Twenty-seven years after the Losers Club defeated Pennywise, he has returned to terrorize the town of Derry once more. Now adults, the Losers have long since gone their separate ways. However, people are disappearing again, so Mike, the only one of the group to remain in their hometown, calls the others home. Damaged by the experiences of their past, they must each conquer their deepest fears to destroy Pennywise once and for all…putting them directly in the path of the shape-shifting clown that has become deadlier than ever. The film is Muschietti's follow-up to 2017's critically acclaimed and massive global box office hit "IT," which grossed more than $700 million worldwide. Both redefining and transcending the genre, "IT" became part of the cultural zeitgeist.
About WaterTower Music:
WaterTower Music, the in-house music label for Warner Bros., has been releasing recorded music since 2001 and has released over 200 titles, including the soundtracks and scores to Aquaman, Crazy Rich Asians, Wonder Woman, Interstellar, Game Of Thrones, Westworld, Riverdale, The Hobbit Trilogy, The LEGO® Movie, The Dark Knight Rises, Hairspray, Sex and the City, Elf, and The Notebook, among others.