NEKROMANTIK
Synopsis: A street sweeper who cleans up after grisly accidents brings home a full corpse for him and his wife to enjoy sexually, but is dismayed to see that his wife prefers the corpse over him.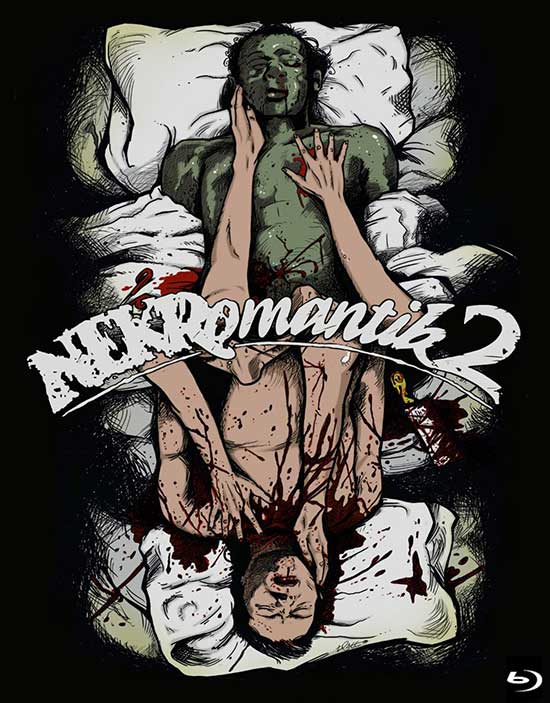 NEKROMANTIK 2
"Cult Epics packs this Blu-ray with a fantastic transfer,
great sound, and a nice bunch of extras.
It's Highly Recommended."
– DVD Talk
Synopsis: A beautiful necrophiliac, who works by day as a nurse and prowls by night cemeteries in search for fresh corpses, finds the grave of Nekromantik's Rob and brings him home, when her real life relationship begins to falter she has to make a final choice between the living and the dead.
NEKROMANTIK
S   P   E   C   I   A   L
F   E   A   T   U   R   E   S
.Includes two versions of Nekromantik:
New Director's Approved HD transfer
(taken from the original Super 8mm negative)
New Grindhouse HD version
(taken from the theatrical 35mm print)
. Introduction by Jörg Buttgereit
. Q&A with Jörg Buttgereit
at the American Cinematheque (2013)
. Never-before-released short film
Hot Love (1985) – 45 mins
. Audio Commentary by Jörg Buttgereit
and co-author Franz Rodenkirchen
. The Making of Nekromantik
. Nekromantik Featurette
. Still Photo Gallery
. Jörg Buttgereit Trailers
. Original Motion Picture Soundtrack Isolated Score
. Nekromantik Collectible Postcards
with artwork by Johnny Ryan
& Nekrophilia photo of Beatrice M.