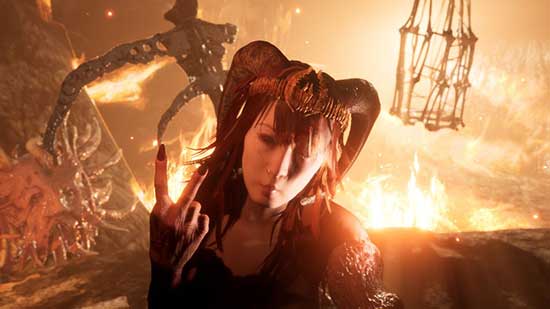 Madmind Studio is thrilled to present you a new trailer for SUCCUBUS – a spin-off to the iconic and widely discussed Agony. This time, as the title of the game suggests, Succubus named Vydija – a lusty demon based on religious beliefs – becomes the main protagonist.
Along with the new trailer, we are launching a social media campaign in which players will be able to make direct contact with the main character of the game. Thanks to the phone that went straight into her cave, Vydija has a connection with our human world and is running her own account on Twitter, sharing additional bits of information from the game's world as well as her thoughts on various topics.
From now on, you can ask questions to the heroine as well as follow her profile full of photos and videos.
SUCCUBUS backstory
The main character of the game is Succubus Vydija. Wild and evoking the desire in her victims' demon, whose story started in the original – Agony and Agony UNRATED, where she received her own single-player campaign.
With the disappearance of the rightful rulers of hell, the remaining demons have chosen their new ruler – the only soul who could dominate the mind of the mighty Beast. Raising their new empire from the corpses of sinners helped the new king, Nimrod, and his queen Vydija, to control the chaos left by the former overlord.
However, the new, honorable title of the queen of hell proved not to be the best match with the savage nature of Succubus. She gave up the luxury of walking on carpets sewn from the skins of martyrs, choosing to live her life in the wild instead, finding her simple pleasures in hunting.
When satisfying her primal instincts, the new queen crosses her roads with the powerful Baphomet who, along with his army, is pursuing the soul of King Nimrod. Being humiliated and betrayed by her own species, the heroine regains her strengths with only one clear target – REVENGE!