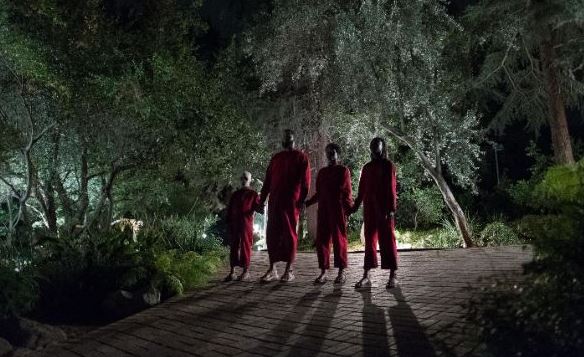 The terrifying Tethered come home, with Jordan Peele's Us now available on Digital and coming to 4K Ultra HD, Blu-ray and DVD on June 18.
In honor of Us' Digital debut this week, we are thrilled to bring you three special feature clips that comprise the "Duality of Us" featurette – a fascinating look behind the creative curtain to gain further insight into the mythology and symbolism of the film, as well as a look into Jordan Peele's mind as a satirist and horror filmmaker.
NEW CLIPS:
A look into Us' emphasis on duality and the various roles of the Wilson Family with the "Duality & Family" clip:
Us is currently available on Digital and available on 4K Ultra HD, Blu-ray and DVD June 18.
BONUS FEATURES ON 4K ULTRA HD, BLU-RAYTM, DVD & DIGITAL:
The Duality of US – Jordan Peele goes in-depth on some of the key themes and imagery in US – including Doppelgängers, Hands Across America, The Nutcracker dance scene, rabbits and the infamous 11:11 coincidence.
The Monsters Within US – Examine how the great cast were able to find their characters, whether they were playing one of the Wilsons or their sinister doppelgängers.
Tethered Together: Making US Twice – Making of a movie is hard. Making a movie where all the main cast play dual roles can be downright mind-bending. In this piece, filmmakers, cast, and crew discuss some of the technical challenges to making the film, as well as some of the design choices for the characters.
Redefining a Genre: Jordan Peele's Brand of Horror – In the space of two films, Jordan Peele has set himself apart as an invaluable artistic voice. Hear cast and filmmakers highlight what makes him so unique, as well as Jordan's own thoughts on his inspirations and the relationship between horror and comedy.
Becoming Red – Using behind-the-scenes footage from between takes, we take a closer look at Lupita Nyong'o's intense and mesmerizing performance as "Red."
Deleted Scenes
I Am Not Even Near You
Rabbit Season
That's Badass
Driftwood
The P is Silent
I Wanna Go Home
We're All Dying – Hilarious outtakes from the conversation between Winston Duke and Tim Heidecker on the beach.
As Above, So Below: Grand Pas de Deux – An extended version of the dance sequence from the film, cutting between adolescent Adelaide at her recital to Red in the Underpass.