HorrorNewsNet Film Festival celebrates the best work from the horror genre film-making community and is hosted by the worlds #1 searched "Horror News" website, Horrornews.net
HNNFF is about the search and the revelation and the reward. It's about the journey that we all go on as horror fans and the experiences – from suspense to utter terror.
Why did you start HNNFF?
"It seemed like the natural progression of things. I've been involved in business of horror for over a decade, specifically supporting the efforts of independent filmmakers. I think we all strive to watch the perfect film and while some say that's an impossible task, what's enjoyable is the journey. The endless search to find the holy grail of movies, or by horror standards, the unholy grail. You know it's a good film when you are sitting on the edge of your seat and experiencing the story along with the characters. You know it's a great film when that feeling of excitement stays with you long after you stopped watching the movie." – Michael Joy, HNN Operations Manager & HNNFF Event Director 
2019 WINNERS
Best Feature Film: The Listing (2019)
Michael Mourer is a family man and a successful Realtor. However his current listing could be his last as he is unexpectedly black mailed with a harsh time restraint.
horrornews.net/141976/mario-cerrito-iiis-the-listing-wins-best-feature-at-2019-hnn-film-festival/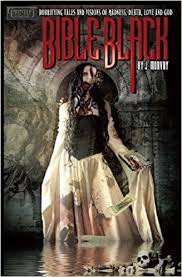 Best Short Film: Bible Black (2019)
In the tradition of Amazing Stories and Twilight Zone comes a thrilling new hybrid of literature and animation: The ultimate animated Graphic Novel Bible Black! Cutting-edge fiction…Mind-blowing graphics…the must see animated horror classic of the year…if you dare?
horrornews.net/142048/jon-morvays-bible-black-wins-best-short-film-at-2019-hnn-film-festival/
** Now Accepting Submissions for 2020 **
For more information: