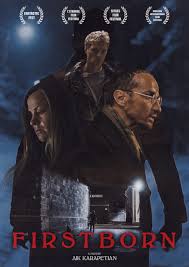 FIRSTBORN is now available on DVD from Artsploitation Films.  
From Aik Karapetian, the director of the much acclaimed, "The Man in the Orange Jacket" comes this intense and thought-provoking thriller. Francis is a middle-aged architect married to Katrina. Their relationship, strained by their incapacity to have children, is further tested when they are robbed one evening by a tough motorcycle-driving thug. Disappointed by her husband's feeble reaction to the attacker, their relationship further deteriorates. The bespectacled Francis, his long dormant masculinity now ignited, seeks and finally confronts the young belligerent young man. During their encounter, criminal slips and falls off a cliff to his death. Soon afterward his wife becomes pregnant and order is seemingly restored for the couple. That is, until pervading paranoia and a mysterious blackmailer proves that his fight for his very manhood is far from over.
Director: Aik Karapetian
Producer: Roberts Vinovskis
Cast: Kaspars Znotiņš, Maija Doveika, Kaspars Zāle
Official Trailer: FIRSTBORN 
For more information:
www.artsploitationfilms.com/film/firstborn/
About Artsploitation Films:
Unlike most film distribution companies, the name of our company describes the kinds of films we are looking to distribute. Artsploitation connotes – to me anyway – that perfect blend of genre/exploitation films with traditional art cinema. We are far from a horror film distributor – that's too easy! We look for odd, challenging, fun, even difficult films – some are more art than genre and others are just genre fun but they all share in common an approach to filmmaking that we love.