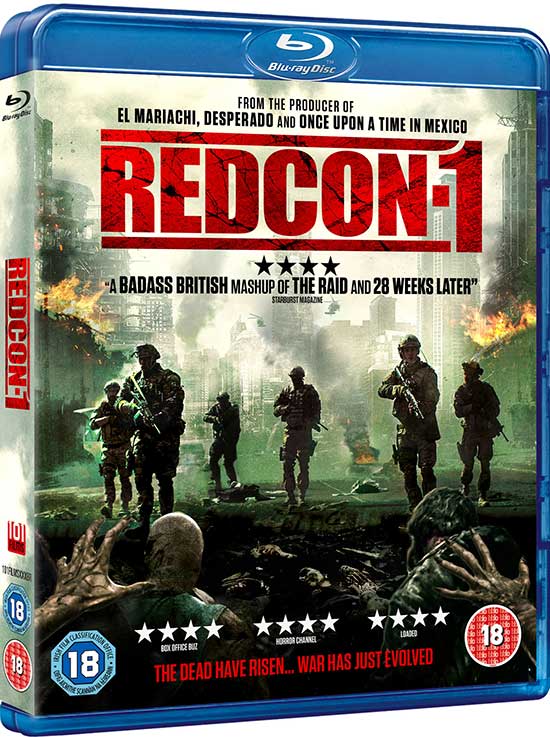 On Blu-ray, DVD & VOD 25th February 2019
From Intense Distribution and 101 Films comes Chee Keong Cheung's Redcon-1, a horror thriller driven through with genuine relentless fight action and bristling with real military hardware, as a crack team of soldiers must battle through a zombie filled Britain in a race against time to find a cure.
After a zombie apocalypse spreads from a London prison, the UK is brought to its knees. The spread of the virus is temporarily contained but, without a cure, it's only a matter of time before it breaks its boundaries and the biggest problem of all… any zombies with combat skills are now enhanced.
With the South East of England quarantined from the rest of the world using fortified borders, intelligence finds that the scientist responsible for the outbreak is alive and well in London. With his recovery being the only hope of a cure, a squad of eight Special Forces soldiers is sent on a suicide mission to the city, now ruled by the undead, with a single task: get him out alive within 72 hours by any means necessary. What emerges is an unlikely pairing on a course to save humanity against ever-rising odds.
Director
Chee Keong Cheung (12, Bodyguard: A New Beginning)
Cast
Oris Erhuero (Sometimes in April, The Cursed Ones)
Carlos Gallardo (El Mariachi, Desperado)
Mark Strange (Batman Begins, Stan Lee's Lucky Man)
Joshua Dickinson (Mirror)
Akira Koieyama (Street Fighter Assassin's Fist, Sense8)
Katarina Waters (Karate Kill, Impact and former WWE wrestler)
Martyn Ford (Final Score, Of Gods and Warriors)
Redcon-1 received a theatrical release in the UK alongside featured panel appearances at MCM Comic Con Scotland and London with the cast and crew, zombie walks, martial arts seminars, university talks and Q&A's across the UK.
Redcon-1 received it's world premiere at the prestigious Raindance Film Festival in London and was also selected to officially open the Freak Show Horror Film Festival in Orlando, Florida and picked up 5 Awards at the 6th Annual Urban Action Showcase and Expo at HBO and AMC Empire 25 Theatres, Times Square New York. As well as the UK, Redcon-1 also received wide theatrical releases in Japan and Taiwan.