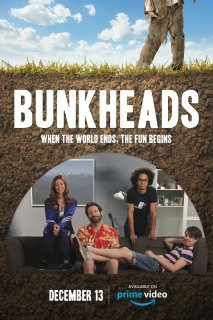 When the world ends, the fun begins! Just in time to binge for the holidays, BUNKHEADS is a comedy TV show set in the zombie apocalypse.
"A hilarious, wholly original spin on a zombie tale, brilliantly framed within the unexpected context of a sitcom. Witty zingers and outstanding comedic performances punctuate Bunkheads, making it one of the most side-splitting comedies to hit the web in ages. It will leave you in stitches as it begs the question – how has this delightful premise never been explored before? An absolute must watch. 10/10".
— Film Blogger, Noam Kroll
Bunkheads is a six episode series about a group of four lovable goofballs: an oddball teacher, a floundering actress, a techie workout warrior, and an immature wannabe rapper. You may think the hordes of undead are the biggest threat during a zombie apocalypse, but annoying roommates can be almost as much trouble.
Staring JOSH COVITT (The Mindy Project), CARLY TURRO (Homeland), KHALIF BOYD (Criminal Minds), and CHRIS O'BRIEN (Rosewood). Created by Will Gong, Directed by Lauren Klixbull, and Produced by Gabriel Reiter. BUNKHEADS is primed for reviews and interviews with Horror
A year into the zombie apocalypse we jump into an underground bunker where four zany survivors are hiding from the undead hordes above. When their daily shenanigans get old, frustrations boil over and they learn that the hardest thing isn't surviving, it's putting up with each other.
Bunkheads, a lighthearted look at the apocalypse, December 13, 2018.