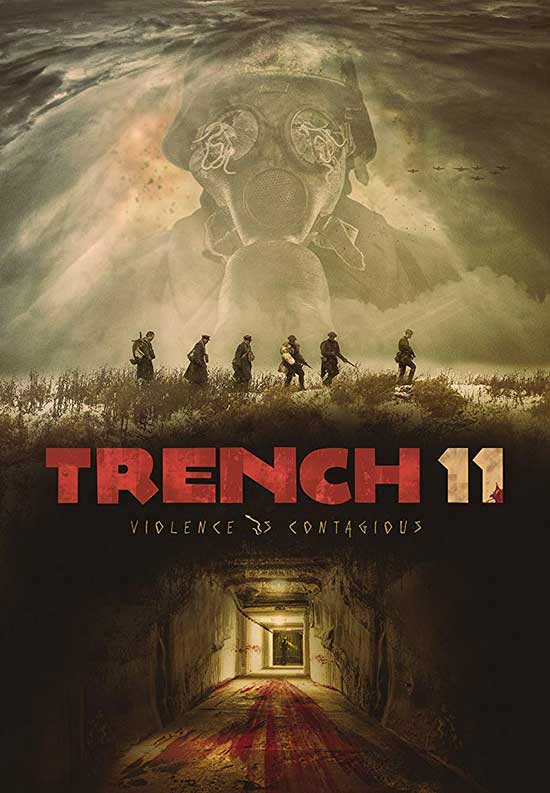 RLJE Films will release the horror film TRENCH 11 on VOD, Digital and DVD on September 4, 2018.  Directed by Leo Scherman (Never Forget) who co-wrote the film with Matthew Booi ("Wild Things with Dominic Monaghan"), TRENCH 11 stars Rossif Sutherland (River), Robert Stadlober (Enemy of the Gates), and Charlie Carrick (The Devout). TRENCH 11 will be available on DVD for an SRP of $27.97.
In TRENCH 11, a highly contagious biological weapon, created by German forces in WWI, is discovered by Allied troops as they explore an abandoned underground bunker. Realizing they need to contain and destroy the threat, their mission becomes a fight for survival when one of their own is infected by the deadly parasite and begins to violently attack them. The soldiers now need to not only save themselves, but must stop the outbreak before it spreads to the rest of the world.
The film has been an official selection at the Toronto After Dark Film Festival, Screamfest Horror Film Festival, Morbido Film Fest and Cinepocolypse, among others.
We have a limited DVD supply of TRENCH 11 for review, so please request your copy today!  We would also appreciate inclusion of the title in your VOD, Digital, and DVD listings for September 4, 2018.
TRENCH 11 will be available on VOD, Digital and DVD Sept. 4, 2018
.