A large number of people dream of becoming a star. Seeing their name in lights, their face on a screen, adoring fans singing their praises. Very few ever achieve this goal, however, and even fewer are lucky enough to find a genre or franchise that offers consistent work. Beyond that are a group of individuals who found some level of stardom only to walk away in search of another dream. Today we're taking a look at celebrities who gave the horror genre some truly memorable performances before heading off on another path. Film star in Horror Movies, we never hear about anymore. presented by Horror News
Cristina Galbo: The House that screamed, Living Dead at Manchester Morgue.
Spanish beauty Christina Galbo made quite a name for herself starring in a selection of European thrillers. One of her biggest roles came in the boarding school set thriller The House that Screamed. She went on to make two more giallo efforts such as the Luigi Cozzi directed The Killer Must Kill Again, and Massimo Dallmano's What Have You Done to Solange? Easily her greatest role in a horror film is that of Edna from the classic zombie film The Living Dead at Manchester Morgue.
Cristina had plenty of experience in other genres but as she moved into the 1980s, her film career began to slow, with her final horror credit being the incredibly hard to find Eugenio Martin film Sobrenatural. At the end of the decade she called it quits on acting and fell back on her second love, becoming a world-touring Flamenco dancer. She has yet to return to the silver screen.
Jack Magner: Amityville II, Firestarter
Every October this writer, like so many other fans, marathons horror movies. During those long buffets of classic terror tales, there are some titles that are guaranteed to appear each year. One such flick is the outstanding Amityville II: The Possession. The film is drenched in grim atmosphere and features one of the best extended haunting sequences ever put to film.
For all the film has going for it, Amityville II would easily spiral out of control if not for the lead performance by Jack Magner as Sunny. If his name doesn't stand out to you it's because Magner only has one other film to his credit, a bit part in the Stephen King thriller, Firestarter.
So what happened? As best as this writer can piece together, Jack simply left the Hollywood life behind, moved with his wife to Boston, and started a family. It's possible to find a news article about one of his kids getting married. Maybe the movie world simply wasn't a good fit for the man, but he looks happy with the life he chose, and he'll always be a big deal to Amityville fans.
Jill Schoelin: The Stepfather, Popcorn, Phantom of the Opera, Curse 2: The Bite.
As far as scream queens go, few have a filmography even half as good as Jill Schoelin. Her career has an excellent balance of quality and quantity, with something for nearly every taste. She battled crazy killer Terry O'Quin in The Stepfather, spiritually traveled through time to contend with Robert England and Bill Nighy in Phantom of the Opera, witnessed her boyfriend transform into a monster in Curse II: The Bite, and was a terrorized babysitter aided by Charles Durning and Carrol Kane in When a Stranger Calls Back. And who can forget her lead role in the cult favorite slasher Popcorn?
It's easy to see that Jill had a pretty spectacular body of work. Ao what dragged her away? In the late 1990s she decided to focus her energy on raising a family, but even that hasn't stopped her from putting together a few interesting projects. In 2004 she starred in a short film, a few years later she put together a jazz album, and she is currently reported to be working on a new TV movie. Beyond that, she's actually a very easy personality to keep up with as she has begun to hit conventions, and is very busy on social media.
Rick Moranis: Ghostbusters, Ghostbusters II, Little Shop of Horrors, Gravedale High.
While few would think of him as a horror actor, consider how sad the realm of 1980s horror comedy would be without Rick Moranis. Rick brought his A-game no matter the genre, from his regular comedy work like Spaceballs, to his outstanding turn as a mouthy manager in Streets of Fire. When it came to terror he offered up the iconic goofball accountant/lawyer Louis Tully in both Ghostbusters films. He also took on the musical remake of Little Shop of Horrors. Even his popular Honey I Shrunk/Blew-Up franchise channeled the spirit of classic camp like Attack of the Puppet People. He even voiced a human teacher at a school full of Monsters in the short lived TV series Gravedale High.
Sadly, Rick was struck by the tragic loss of his wife in the early 1990s, leaving him a single father of two. Balancing his family responsibilities with work proved a difficult task, and he started to step back from movies only to later remark that he found he didn't miss it. A very private person, he's stayed out of the limelight except for brief reemergences for an album or occasional comedy appearance. Most recently the internet went wild when a cameo appearance was announced for the sitcom The Goldbergs. Perhaps one day he'll make a full return to the big screen. As it stands, he seems content with his body of work and has definitely earned his retirement.
Alison Lohman: Drag Me to Hell, Kraa! The Sea Monster, The Vatican Tapes.
Alison Lohman is another name that may not pop right out as a horror star, and while she has only a few credits in the genre, one of them is in one of the best spooky stories of this century. Her other main terror title, however, is something far more unique.
Early on in her career, Alison nabbed a role in the Full Moon Pictures giant monster flick Kraa! The Sea Monster. In the film, she is part of a band of time travelers looking to stop a massive abomination while clad in not so flattering spandex costumes. It's very much a film for lovers of garbage cinema.
Her real claim to horror fame came courtesy of Sam Raimi's return to the genre with 2009's Drag Me to Hell. In it, Alison stars as a bank worker cursed by an old gypsy woman to be tormented by the Lamia that will eventually drag the poor girl into the pits of the underworld. Her performance is endearing enough that you want to see her escape this horrible fate no matter how far she has to go to do it.
That same year, Alison married director Mark Neveldine, most infamously known for the Crank series. She took a few years off to have and raise their children. Since then she has sporadically returned to films, usually in smaller roles in films directed or produced by her husband. Otherwise she's a rare sight on the big screen.
Alan Ormsby: Children Shouldn't Play with Dead Things, Deranged, Deathdream.
Writer, Director, special effects artist, author, toy designer, and occasional actor, Alan Ormsby is an often forgotten king of the horror genre. In font of the camera, he is best known for playing Alan, the egotistical hippie oculist from Bob Clark's Children Shouldn't Play with Dead Things.
Beyond that, Ormsby would team up with Clark yet again for the post Vietnam horror flick Deathdream, craft his own cult classic with Deranged, mentor a young Tom Savini in the art of special effects, pen a book about classic movie monsters, write Paul Scharader's remake of Cat People, provide the Nazi zombie effects for Shock Waves, and design the popular doll Hugo: the Man of a thousand faces. Truly he's a renaissance man of terror.
His career began to slow in the 1990s as he wrote films like The Substitute and served as a script supervisor on the CBS crime series Nash Bridges. Not too far into the new millennium he called it quits from the Hollywood game. While it is possible to find bits of footage from the past decade, no one seems to know for certain just what Alan is up to these days. Most likely he's simply enjoying retirement from his large body of work. I'd say he's earned it.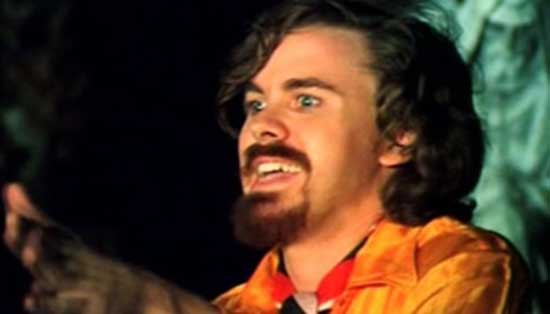 Jennifer Cooke: Jason Lives, V, The Hitchhiker.
Among all of the Friday the 13th heroines, Meghan from Jason Lives stands out as one of the most well-developed. What helps the rebellious sherrif's daughter stand out is the spunky performance by Jennifer Cooke.
With a career spanning less than a decade and mostly encompassing television appearances, Jennifer started to see an uptake in popularity thanks to her role as Elizabeth Maxwell in the alien invasion series V, followed by several other horror projects, including her part in Jason Lives. After that she only appeared in a dramatic mini-series before calling it quits.
So what happened to take her away from the spotlight? Well, she married the co-founder of the Celestial Seasonings Tea company, had a few kids, and is heavily active with the non-profit Urantia Fellowship. You'd be hard pressed to imagine a bigger turnaround from a life in spooky cinema.
Bruce Abbot: Re-Animator, Bad Dreams
Bruce Abbot ranks highly among classic cult film actors. While his biggest claim to fame may be as medical student Dan Cain in the first two Re-Animator movies, his filmography includes the likes of cheap action flicks like The Demolitionist, bonkers sci-fi titles like Interzone, and further horror projects such as Bad Dreams and The Prophecy II. His final film credit would come in 2010 with the comedy Eagles in the Chicken Coop.
We may yet see Bruce again on screen, as he is considered to be only semi-retired from acting. For most of this century he has worked as an architect and artist. He even lives in a home of his own design with wife Kathleen Quinlin.
That's just a handful of stars who've said goodbye to the spotlight. Whom are some of your favorites you'd love to see return for one more project? Sound off in the comments below, and maybe you'll convince them to give it another shot.