5th Horrorant Film Festival "FRIGHT NIGHTS":Awards
The unrivaled horror film festival in Greece is back!
Live the experience!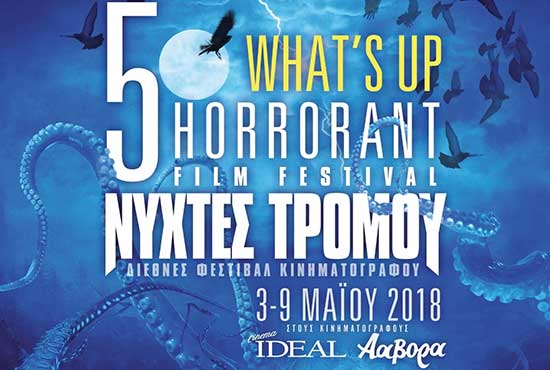 Horrorant Film Festival "FRIGHT NIGHTS", one of the fastest up and coming genre film festivals in Europe, just completed its fifth run with great success, giving the Greek audience a full week packed with suspense, excitement, and of course, pure entertaining horror.
Twenty-five feature films from 14 countries were screened in Athens in the International Competition section and competed for the Horrorant awards, making the judges' mission extremely difficult.
The award winners were announced last Thursday, and the Taiwanese teen horror Mon Mon Mon Monsters was chosen for the Horrorant Best Film award. Marcelo Schapces won the Horrorant Best Director award for Necronomicon, while Arend Remmers took the Horrorant Best Screenplay award for Snowflake. No movie managed to win more than one award, which displays that the competition was really tough.
Here is the complete list of winners:
Horrorant Best Film award: Mon Mon Mon Monsters, dir: Giddens Ko
Horrorant Best Director award: Marcelo Schapces (Necronomicon)
Horrorant Best Screenplay award: Arend Remmers (Snowflake)
Horrorant Best Actor award: Lior Ashkenazi (The Wanderers)
Horrorant Best Actress award: Sofía Del Tuffo (Luciferina)
Horrorant Best Cinematography award: Sebastián Ballek (Trauma)
Horrorant Best Special Effects award: Coty Parasito, Franco Burattini, Rodrigo Guerechit-Ratti, Simon Ratziel, & Román Kampelmacher (What the Waters Left Behind)
Horrorant Best Original Music award, sponsored by Scapetune: Manuel Riveiro (The Inhabitant)
Horrorant First Look award: Tuftland, dir: Roope Olenius
Horrorat Special Mention award: Stop Over in Hell, dir: Víctor Matellano
1st Horrorant Best Foreign Short: Out of Darkness (Skickelsen), dir: Jonas Gramming
2nd Horrorant Best Foreign Short: Drops (Gotas), dir: Sergio Morcillo
Horrorant Best Greek Short: A Child Outside, dir: Panos Eliakopoulos
Sixty-four movies in total were screened during the 5th Horrorant Film Festival, breaking our record, but what was most important was the exquisite quality of the movies, that satisfied the horror-hungry greek audience.
2019 is not that far away and preparations for our sixth year have already started. Join the Horrorant experience! 
5th Horrorant Film Festival «FRIGHT NIGHTS»
Athens | 3-9 May | Cine IDEAL – AAVORA
www.horrorantfilmfestival.com/
www.facebook.com/HorrorantFilmFestival/