AVAILABLE ON DIGITAL HD ON MARCH 28, 2017
AND ON BLU-RAY AND DVD ON APRIL 11, 2017
FROM UNIVERSAL PICTURES HOME ENTERTAINMENT
"A TERRIFYING BOOGEYMAN FOR A NEW GENERATION"
– CLARKE WOLFE, COLLIDER 
OWN THE ALL-NEW UNRATED VERSION WITH
NEVER-BEFORE-SEEN FOOTAGE!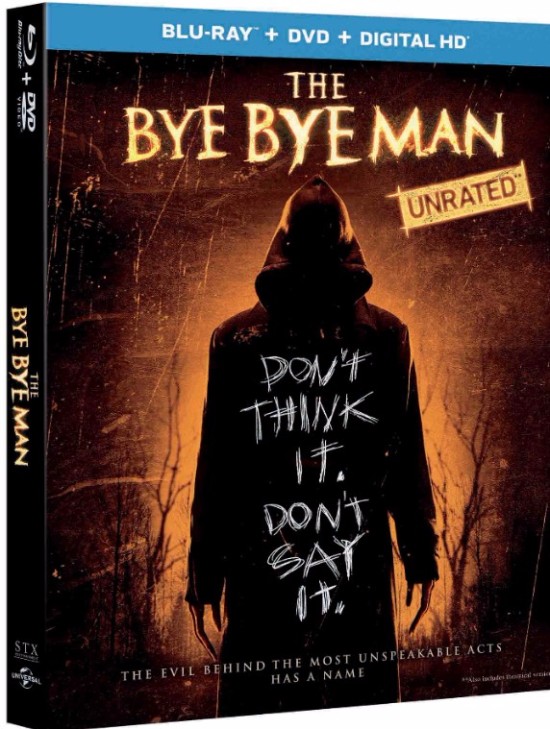 Universal City, CA, March 9, 2017 – People commit unthinkable acts every day. Time and again, we grapple to understand what drives a person to do such terrible things. But what if all of the questions we're asking are wrong? What if the cause of all evil is not a matter of what…but who? STX Entertainment (Bad Moms, The Boy) redefines horror with an-all new iconic villain in The Bye Bye Man, arriving on Digital HD on March 28, 2017 and on Blu-ray™, DVD and On Demand on April 11, 2017 from Universal Pictures Home Entertainment. Starring Doug Smith (Ouija), Lucien Laviscount ("Scream Queens"), Cressida Bonas ("Doctor Thorne"), Jenna Kanell ("The Vampire Diaries"), Carrie Anne Moss (The Matrix), Faye Dunaway (The Thomas Crown Affair), Doug Jones (Pan's Labyrinth) and Michael Trucco ("Battlestar Glactica"), The Bye Bye Man introduces a psychological force of evil who grows in power every time you think of his name or say it out loud. Be the first to own the all-new unrated version with shocking never-before-seen footage, available on Blu-ray™ and Digital HD!
From the producer of Oculus and The Strangers comes The Bye Bye Man.  When three college friends stumble upon the horrific origins of the Bye Bye Man, they discover that there is only one way to avoid his curse: don't think it, don't say it. But once the Bye Bye Man gets inside your head, he takes control, making you see and do the most unspeakable acts committed by man. Is there a way to survive his possession?  Starring Douglas Smith (Ouija) and Carrie Anne-Moss (The Matrix), see the chilling thriller that critics are calling "a paranormal thrill ride that will echo in your nightmares" (Elizabeth Rayne, Den Of Geek).
The film will be available on Blu-ray™ with DIGITAL HD and UltraViolet™ and DVD.
Blu-ray™ unleashes the power of your HDTV and is the best way to watch movies at home, featuring 6x the picture resolution of DVD, exclusive extras and theater-quality surround sound.
DVD offers the flexibility and convenience of playing movies in more places, both at home and away.
DIGITAL HD with UltraViolet™ lets you watch movies anywhere, on any device. Users can instantly stream or download movies to watch on iPad®, iPhone®, Android™, smart TVs, connected Blu-ray™ players, game consoles and more.