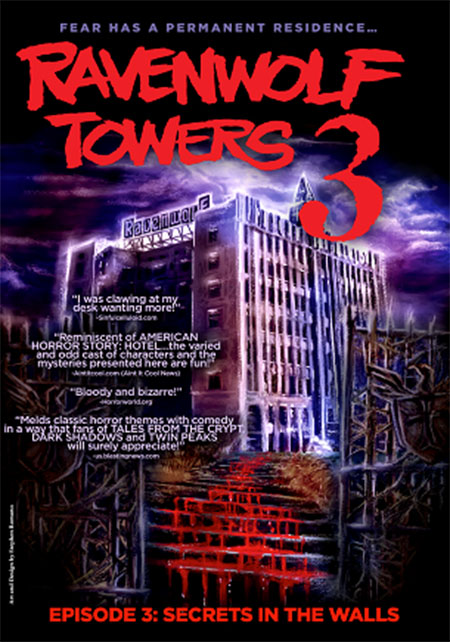 Full Moon presents
The third startling episode of
RAVENWOLF TOWERS  
The latest episode in Full Moon's original Gothic series RAVENWOLF TOWERS: SECRETS IN THE WALLS
Full Moon's startling, critically acclaimed seven-part horror series continues with the third and wildest episode yet – RAVENWOLF TOWERS 3: SECRETS IN THE WALLS.  The show, which tells the dark saga of a family of incestuous lunatics lording over the remains of a looming, formerly opulent and now dilapidated Hollywood hotel, is directed and produced by Charles Band, who continues  to release one episode every full moon.
Synopsis:  Sensing a threat to her family and her secret plans, the mysterious and beautiful Matriarch, Mary La Velle, orders the sinister Dr. Lorca to uncover the truth behind one of the Ravenwolf's newest tenants, Vampire Hunter and Psychic Investigator Ivan Ivanov. Lorca, in turn, hires a local Detective, the quick-witted no-nonsense Shona Baltimore, who quickly discovers more than she ever wanted to know not only about the Vampire Hunter Ivanov, but also about Jake, who has his own secrets, about the supernaturally powerful Mary, and about Mary's monstrous, murderous grandson Samson..
Like a cross between SPIDER-BABY, DARK SHADOWS and TWIN PEAKS, RAVENWOLF TOWERS follows the gruesome and bizarre adventures of Jake, the new assistant manager at 'The Towers' who is soon subject to the horror at the heart of the building: guests disappear without a trace, mad doctors meddle with madder science, degenerate monsters lurking around every corner and beautiful women are not what they seem.
"It has every single element of a Full Moon feature that you remember from years' past… an instant hit that combines magic and science into a bizarre, fascinating mix!" -The Slaughtered Bird
RAVENWOLF TOWERS 3: SECRETS IN THE WALLS is available on Special Edition DVD on February 21, for rental or purchase on the Full Moon Amazon Channel and via Full Moon Streaming beginning February 13. Previous RAVENWOLF TOWERS episodes are also currently available for purchase via these outlets.