ASH vs EVIL DEAD GIVEAWAY!
Horrornews.net / Anchor Bay Entertainment join forces for this great giveaway opportunity!  We are giving away a BLURAY copy of the STARZ original series ASH vs EVIL DEAD.  Please email joyhorror@msn.com all submissions.  Winners will be picked a random by the end of this week.  Enter "Ash vs Evil Dead" in the subject line, and then your full name and complete address in the subject of the email.  United States and Canada ONLY!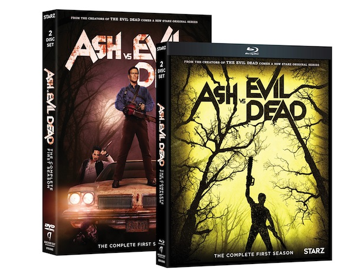 ASH IS BACK!
AND HE'S MANKIND'S LAST HOPE…AGAIN.
From the creators of The Evil Dead comes a new STARZ Original Series on
Blu-ray™ and DVD August 23, 2016
BEVERLY HILLS, CA (July 18, 2016) – "Ash vs Evil Dead," the 10-episode half-hour STARZ Original series, is the long-awaited follow-up to the classic horror film The Evil Dead. The series is executive produced by Sam Raimi (The Evil Dead, The Grudge), Rob Tapert (The Evil Dead, The Grudge), and Bruce Campbell ("Burn Notice," Oz the Great and Powerful, The Evil Dead, Evil Dead II, Army of Darkness), the original filmmakers, and Craig DiGregorio who serves as executive producer and showrunner.
Campbell reprises his role as Ash, the stock boy, aging lothario and chainsaw-handed monster hunter who has spent the last 30 years avoiding responsibility, maturity and the terrors of the Evil Dead. When a Deadite plague threatens to destroy all of mankind, Ash is finally forced to face his demons – personal and literal. Destiny, it turns out, has no plans to release the unlikely hero from its "Evil" grip.
The cast also includes Lucy Lawless as Ruby ("Parks and Recreation," "Spartacus" franchise, "Battlestar Galactica," "Xena: Warrior Princess"), a mysterious figure who believes Ash is the cause of the Evil outbreaks, Ray Santiago as Pablo Simon Bolivar (In Time, "Raising Hope," "Dexter," Meet the Fockers), an idealistic immigrant who becomes Ash's loyal sidekick, Dana DeLorenzo as Kelly Maxwell ("Impress Me," A Very Harold & Kumar 3D Christmas), a moody wild child trying to outrun her past and Jill Marie Jones as Amanda Fisher ("Sleepy Hollow," "Girlfriends"), a disgraced Michigan State Trooper set to find our anti-hero Ash and prove his responsibility in the grisly murder of her partner.
With a suggested retail price of $49.99 for Blu-ray™ and $39.98 for DVD, "Ash vs Evil Dead" includes exclusive audio commentaries by Bruce Campbell and more!