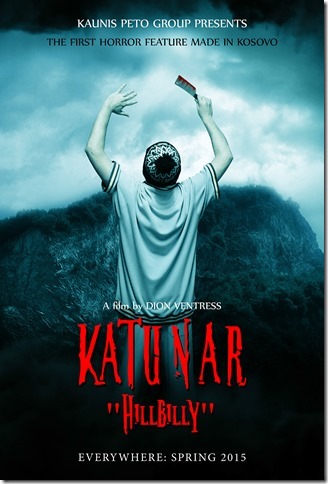 Director Dion Ventress risks travels to Kosovo, to bring you the historic first ever horror movie to be shot in the country, KATUNAR (the word is an Albanian slang which in English means "Hillbilly"or "Villager".
Kosovo might be known for war and strife, but Ventress plans to change the just over 5 year old country with an Albanian/English feature film which will have the Republic of Kosovo known more for presenting a popcorn thriller, than Europe's poorest country with a 45% unemployment rate.
KATUNAR (ka-toon-ar) is the first horror featurea to be made in Kosovo. Canadian director Dion Ventress brings to the screen a small town suspense thriller.
After finding out of the passing of her father, Adelina returns back to Kosovo and finds she's inherited her father's home in Kaçanik. On her return, she not only deals with paranormal activity in the home, doors that don't open, and a mysterious legend of people living in caves since the war in a cliff on the edge of town. Once people start disappearing, Adelina has to figure out what is real and what is myth.
From the Director:
"My name is Dion Ventress and have worked in film and television production in Canada for over two decades. In the television aspect of my career, I have worked from home shopping, to Canadian network news, to sports, and also launching the first streaming superstation at a time when the only things that were being streamed was WORLD OF WARCRAFT and religious sermons. Television forced me to work on tight budgets and timelines, which translated into my own productions (music videos and home video documentaries). Having one of Canada's most eclectic private film archives (of 16mm, 8mm, and 35mm), this also had taken me to four different countries, and involved with helping bring other features into the Toronto film marketplace including the only 35mm 3-D polarized feature from the 90's to Canadian audiences.
Having a taste for global music, I started being introduced to Albanian pop, and ended up going to Kosovo in 2008 with profits I had made from a successful film tour of Finland.
Through meeting various people in Kosovo's media industry, I was impressed with the talent in the country, and technically what could be pulled off. I was asked by a company years later to work on a script for an action film. Sadly the company folded, and I returned last year to investigate how possible it was to do a feature film in the country. Technically, could it be possible?
Indeed it was as the same kind of equipment was in the country, however primarily with a focus on commercials, music videos and local productions.
Spending lots of my own capital, within a 12 month period, I established our headquarters in the country and made alliances with the country's best production houses in order to not only make a feature film, but to make something that would and could be seen for a worldwide audience.
[youtube]https://www.youtube.com/watch?v=zwQgHFcdXKM[/youtube]
On top of it, the country is in desperate need of jobs. Kosovo is one of the poorest countries in Europe, and close to a 45% unemployment rate.
Your contribution not only goes towards making the first horror film for the country, but it also will provide employment. I have seen how investment in my own country's film industry (Canada) has helped make us a worldwide force in feature film production. My belief is Kosovo has the talent and equipment to have the same output.
How often are we able to say we are involved with history, or touching the lives of the people in a country by turning out a small budget film?
YOU CAN – And that's we need your help!"
Campaign Link: igg.me/at/katunar/x/8730882
Facebook: www.facebook.com/katunarthemovie
Twitter: twitter.com/KATUNARMOVIE
ss
(416) 567-1140 (Toronto)
Kaunis Peto Group (Kosovo/Canada)