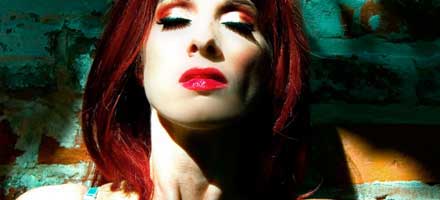 BIO:
I began modeling and acting about 5 years ago. I am from Baton Rouge, La and was born in the summer of 1975. I am also a make up artist, an actor, and a graphic designer. I love modeling and acting because it lets me express my artistic side. I am definitely not what you would call mainstream. I Love Horror! Anything to do with it. Horror movies, haunted houses, FX make up and Gore shoots. I definitely have a dark side. I think dark is sexy. 
My first acting gig was as an extra in a B rated "straight to dvd" film. I played a goth girl possessed by a voodoo spirit. Since then I have been in music videos and my last film was with Meagan Good.
I recently started working with The Barely Rotten Girls, and entered their contest as Barely Rotten Girl Next Door. This was the first year they started this contest. After a grueling 3 months, the votes were tallied and I came in 1st. The next thing you know, Im getting modeling deals, book deals, and clothing line projects to work on. 
I love what I do, and consider myself blessed to be able to do it. It's fun for me. When it stops becoming fun, I will hang up my Stilettos and do something else. But for now, DON'T EXPECT ME TO BE GOING ANYWHERE… ANYTIME SOON!!!
GALLERY: