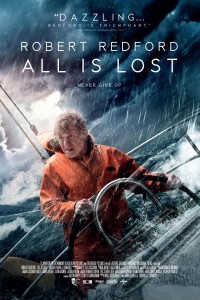 Academy Award® winner Robert Redford stars in the Cannes Film Festival sensation, All Is Lost, arriving on Blu-ray, DVD and Digital HD February 11 (available on Video on Demand beginning January 21) from Lionsgate Home Entertainment.
Hailed as one of the year's best films by critics everywhere, the "off the scale brilliant" (Huffington Post) and "masterful" (Washington Post) survival drama All Is Lost makes its highly-anticipated debut on Blu-ray (plus Digital HD UltraViolet), DVD (plus Digital UltraViolet), and Digital HD February 11th from Lionsgate Home Entertainment. The "thrilling, nail-biting, pulse-racing adventure," (Rolling Stone) will be available three weeks earlier on Video on Demand and Pay-Per-View on January 21st.
In a role that is "the capstone to a great star's career" (Time Magazine), Academy Award® winner Robert Redford (*Best Directing, Ordinary People, 1980) delivers a commanding solo performance as a man who must battle to survive after his boat is wrecked in the open seas. Written and directed by J.C. Chandor, the Oscar®-nominated writer of Margin Call, All Is Lost is an enthralling story of one man's courage and perseverance against all odds.
"Robert Redford gives the performance of his life," (New York Times) in this open-water thriller about one man's battle for survival against the elements after his sailboat is destroyed at sea. Using only a sextant and nautical maps to chart his progress, he is forced to rely on ocean currents to carry him into a shipping lane in hopes of hailing a passing vessel. But with the sun unrelenting, sharks circling and his meager supplies dwindling, the ever-resourceful sailor soon finds himself staring his mortality in the face.
The Blu-ray and DVD include audio commentary by the director and producers as well as captivating, in-depth behind-the-scenes featurettes including a look at the film's director, star, music and more. The All Is Lost Blu-ray and DVD will be available for the suggested retail price of $29.99 and $26.98, respectively.
BLU-RAY/DVD SPECIAL FEATURES**
Audio Commentary with Writer/Director/Producer J.C. Chandor and Producers Neal Dodson and Anna Gerb
"Big Film, Small Film" featurette
4 Vignettes – The Story, The Filmmaker: JC Chandor, The Actor: Robert Redford and The Sound of All Is Lost
"Preparing for The Storm" featurette, includes:
Storyboards
VFX Reel
Pre Shooting
Time-lapse Footage