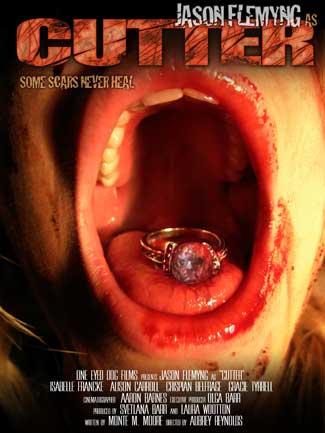 New annoucement of an original stalker slasher horror feature film called 'Cutter' starring Jason Flemyg.
When Amanda and friends stumble across an old boat, they think they have found an ideal secluded party spot. Drinking too much and cranking up their
music they have no idea that the are disturbing the boats violent sole occupant- a scarred figure with a painful past and a dark secret. Soon this
mysterious violent man begins to pick off the unwelcome visitors and adds them to his macabre collection in the meat locker. Amanda thinks help is at
hand with the arrival of another group on board but the newcomers have their own agenda and wont let anything get in their way.

Cutter will be produced in collaboration with EQ Films which stands for Equilibrium. Founded by film executive Paul Desira, EQ believes that all films, must have the perfect harmony between art and entertainment in order to appeal to a wide audience as possible. That there must be the perfect synergy between script, performance, music, sound and cinematography in order to make the best film possible.
Built on the success, well respected and hugely successful Timereel documentaries brand, EQ films aims to bring you fictional stories that cause a stirring experience for the viewer.
EQ films is fiercely independent, but with a commercial aim and a broad market appeal. We help support local and international talent will focus on the skills of an actor, rather than their reputation or their box office draw. Our dream is to create iconic stories which last eternally within its chosen film genre to entertain, enthrall and amuse millions.
www.indiegogo.com/projects/cutter/x/295390