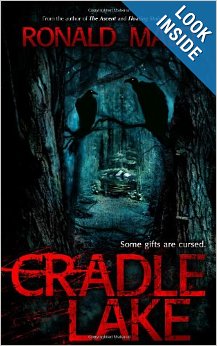 Cradle Lake, a novel by Ronald Malfi is a haunting and terrifying novel of madness and despair. The characters come to life in ways that readers will never forget.
Readers will relate to the situations that happen within the pages of Cradle Lake. Ronald's ability to create horrific situations is what makes the novel stand out from the rest of the fiction books that are out there. The setting of the story is real, the ability he has to make readers want to care for the characters is what makes this story successful.
The character of Alan is realistic and the dialogue is believable when the protagonist is confronted in certain situations. The flashbacks are well written and furthermore makes us feel that Alan is a real person. The dire situations that take place within the story are what makes the reader more interested in finding out the outcome.
The use of Indian lore is well played and makes the book an entertaining read, yet I would not recommend readers reading this alone on stormy nights.
If anything, Cradle Lake will have the reader wanting to read more and leaving them with a stronger craving the moment they read the last page of the book. It is another talent Ronald has for crafting terrifying stories that can almost happen to anyone, despite the supernatural settings. Some of the subject matter may have a tendency to stick with the reader and have them question themselves on how bad do they want to rid themselves of the pain and disease that is eating away at their loved ones or themselves.
Again, some of the situations that happen, may affect the readers, another ability that Ronald has when writing his works of dark fiction. The way he is able to write a peaceful situation before everything goes to hell is tremendous and terrifying at the same time. One minute you can relate to the character, the next you do not want to see the inevitable fate that falls upon the characters.
Book Review: Cradle Lake – Author Ronald Malfi