THE CRAVING by Val Killmore will be released to the public in January 2011!
The Craving" is an indie homo horror/grindhouse 'a la Dario Argento feature film; shot entirely in San Francisco of November 2009. "The Craving" is "American Psycho" meets "Blood Feast".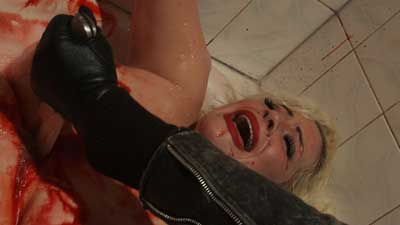 The Story:
Chef Ronnie is a charming celebrity chef who thrives and shines in her everyday life as owner and proprietor of Diabla Pica; a trendy Spanish tapas restaurant in San Francisco. Leading a double life, Chef Ronnie cooks internationally award-winning meals by day and her nights are spent in ways too gruesome to fathom. As Chef Ronnie and Diabla Pica's reputation scorch up the top social circles, San Francisco's murder count hits a record high. Being haunted by her past in the form a vengeful lover, and being caught in the seductive cross fire of an increasingly serious relationship, Chef Ronnie has bitten off more than she can chew.
The film stars Anna Curtis (www.imdb.com/name/nm1615754/), Madison Young (queer p*rnstar, en.wikipedia.org/wiki/Madison_Young) Chef Jamie Lauren of Bravo's acclaimed TV show, "Top Chef", Michael Soldier (Star of 'The Gay Bed and Breakfast of Terror', www.imdb.com/name/nm1461060/) and other SF nightlife luminaries and art-stars.
To see the trailer and for more on Val and her film, please visit : hellfirecinema.com/
Here are screen shots from the film! :