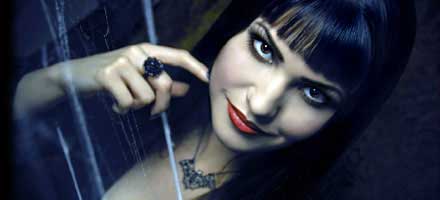 BIO:
First off, art is my life. I am currently in college, pursuing my degree in Fine Art. My favorite artistic medium at the moment is digital, but I have experience utilizing all traditional mediums (painting, drawing, sculpting, printmaking, etc). I absolutely love horror movies, but appreciate other genres as well. I founded the Central Valley Horror Club in my area, and I hold horror-related events every month. I am also a self-taught amateur special-effects makeup artist. I'm really in to 80's rock/metal…but I listen to tons of other genres of music as well (Ronnie James Dio & Alice Cooper are two of my many heroes!). I have played guitar for about 11 years now, and I began playing keys about 2 years ago. I currently work as a graphic/web designer…and a self-taught pastry artist. I'm currently in the process of starting a mask-making and special-effects-prop project with my boyfriend. This is something we've wanted to do for a very long time now, and we are quite excited about it. We've always been into special effects (makeup and props), and even helped operate and act in a DIY haunted house in our area for five years.
I'm currently a hopeful for Fangoria's 2010 Spooksmodel Competition. I am a die-hard fan of the horror genre, and I know that I would make Fangoria proud in representing them. The voting has not gone up yet, but keep checking Fangoria.com and FangoCon.com!
I'm always up for talking with other artists and horror fans, so feel free to message me on my Myspace, at www.myspace.com/kaci. That is my artwork page, so feel free to add me to check out my work.
GALLERY: