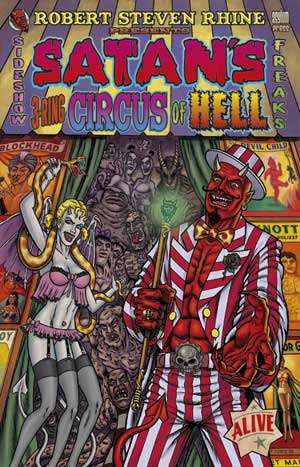 Written by Robert Steven Rhine
Artwork by WILLIAM STOUT, TIM VIGIL, JOHN CASSADAY, HILARY BARTA, JIM SMITH, FRANK FORTE, TONE RODRIGUEZ, FRANK DIETZ, VINCENT WALLER, ERIC PIGORS, STEVEN MANNION, SHANNON WHEELER, TOMMY CASTILLO, BRYAN BAUGH, JOHN HOWARD, DAVID HARTMAN, MIKE SOSNOWSKI, ALEX PARDEE, DAVID PALEO, JOHN WATKINS CHOW, STEPH DUMAIS, JEFF GAITHER, JAMES HELKOWSKI, CLAY HENSS, MATT HOWARTH and more.
Cover by Frank Forte.
Published by Asylum Press
Publication Date: 2005
Format: Color / B&w – 256 pages
Price: : $19.95 
Another gem from the Asylum press folks. This one's a kick ass trip into horrific short stories presented by Satan himself. Our leader this time goes to Robert Steven Rhine who has provided all the concepts, and stories. Brilliant artwork though out goes to a whole collection of artists that contribute to the asylum universe. The TPB contains about 1/3 color shorts , with the rest in B&W.
Each story is filled with incredible drawings provided by a the collective of several contributing styles . The stories are fantastic. Each one ends mostly on a horrific gory end with some sort of "they had it coming" resolution or morally fitting end. What I love about these most, is that they don't hold back on any account. Some stories are 1 page long and with others over several. Though I don't there was a single story that didn't have an enjoyable resolve through out. For horror fans, you get the goat and the innards on this one. Spectacularly detailed gore combined with humor makes this this a keeper edition period. If you've read other reviews on Asylum work you 'll find that we at horrornews.net are big fans of the stuff these guys are producing. Just a quick note – these books are intended for mature readers, so hide these from the youngens. Mostly do to the graphic violence and nudity .
Some of the great stories you'll enjoy include "Hell's Bells" – a contest with histories greatest serial killers and deviates who battle it out for a pass to heaven………. brilliant! "Out on a line" – a naive homeowner that takes it upon himself to chainsaw his tree to save a buck even at the warning advice from his gardner."Love Doll" – An overanxious scientist decides to test his genetic telaporter without checking the contents of the his module very well. Let's see there's a "zombie eating contest", A party clown serial killer, a meeting of the minds invite per Vlad and his vampirism buddies. There's trouble in the hood and the just rewards awaiting the soulless thugs who engage in daily deviations and violence. How bout a magician and a chainsaw act that does it for real. Um. or the old hag who wears young folks skin to have sex with nubile young hotties. "Beached Whale" features a couple of guys on a beach trying to get lucky. One of them so happens to get buried up to his neck before getting sat on by a fat wahoo. Yep there plenty of whoring, sexing, chopping, slicing, eating, attacking, skin wearing fun in these pages – enough to fill your plate for a few days.
A bonus to this edition includes 1 page one off artwork contributions provided by the team including artist such as Alan M. Clark, Steve Mannion, Gaither, Pigors and a number of others. These range from hilarious to sickening all in the name of circus side show hell.
Satan surely has done his job on this one with tales that will stick to your gut like a cage of rats let loose on a turkey carcass. Great fun and great visuals…. Viscerally vicious with beautiful displays of madness and mayhem.! 
The book being reviewed actually collects a number of back issue "Satan" books – including "Powder room" "Chicken soup" and gone wild. Many stretching back quite few years. So if your looking for the Asylum press "Satan" bible – then this is the one to own!
Available from www.asylumpress.com