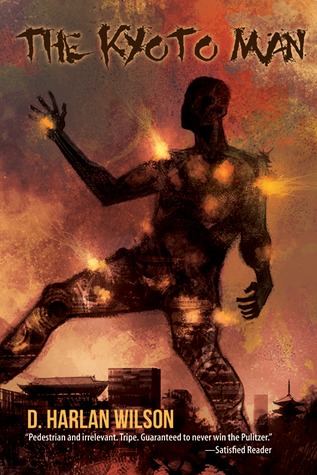 I first encountered the writing of D. Harlan Wilson in the pages of The Bizarro Starter Kit –Orange (Bizarro Books, 2006), which opens up with a handful of his short stories. In those pages, I visited the worlds of home-invading bodybuilders, mysterious characters battling for the rights to a piece of used chewing gum, and an entrepreneur who starts his own business selling facial hair as pets. The writing was fantastic and the images created in his stories were the kind that stuck with me and made me want more. I found more in The Kafka Effect (Eraserhead Press, 2001), a collection of Wilson's short stories that brought with it even stranger worlds and even more mind-twisting language, the kind that makes you re-think your opinion of the short story. However, I had never had the opportunity to experience his writing in the form of a novel until now, and I'm finding myself at a near-loss for words.
The Kyoto Man (Raw Dog Screaming Press, 2013) is the third in Wilson's Scikungfi trilogy (see also Dr. Identity and Codename Prague), the previous two installments being highly recommended books, but not at all prerequisites for this particular journey. Simply put, The Kyoto Man is the story of an unnamed man who inexplicably and uncontrollably becomes a city. And we're not talking metaphorically here, but metromorphically; our protagonist actually becomes the city of Kyoto, Japan, killing scores of people with each accidental transformation. Whether the transformations have to do with the Stick Figure War, or the subsequent timecrashes and zoneshifts, or the societal norm of schizophrenia and dreamless nights, he has at once become what legends are made of while at the same time seeking out psychological help in order to rediscover who "he" really is. Being that he has, in essence, become the most prolific, yet unwilling, serial killer in history (except when the transformation happened in the Florida wetlands), he also finds himself dodging enemies he may or may not have ever met.
The Kyoto Man is part sci-fi novel, part cult classic film (think Tetsuo – The Iron Man and the like) translated onto the printed page. Wilson divides the story up into chapters representing the different transformations into a city throughout the years, showing the very first metromorphosis as well as the apparent final time, while covering the span of over ten thousand more in between. The shifts in space and time due to the timecrashes and zoneshifts (eventually lumped together and abbreviated as "TCZ") find our protagonist in a variety of different settings, much like Billy Pilgrim in Slaughterhouse-Five, but in a far more manic and chaotic kind of way.
The story in itself is fantastic, a great literary sci-fi novel with a good sense of humor about it. But add in the intelligent and witty touch of D. Harlan Wilson and it reaches mind-blowing greatness. Each chapter comes in a different form; sometimes it's the script for a sitcom, which is written in screenplay format complete with canned laughter, sometimes it's a panel from a comic book, complete with accompanying art. One chapter is written in flash fiction, one in the style of Cormac McCarthy (The Road), another in "hyperkinetic gorefest," still another in a very Faulkner-ian "Sound & Fury Disabled Remix." The variety not only adds to the genius of the novel, but helps keep up the schizophrenic feel as we jump from one place/time/style to another with each chapter.
Needless to say, the "rules" of writing fiction are broken throughout, something that will appeal to the less genre, more literary readers, while the result is sure to appeal to fans of Douglas Adams and Philip K. Dick. Beginning writers of fiction, especially sci-fi genre writers, are taught to avoid infodumps at all costs. What does Wilson do? Not only includes them, but specifically labels them as such throughout, giving the reader chunks of history relating to the Kyoto Man, the Stick Figure War, the timecrashes, etc. Depending on the section, our protagonist "becomes" a different person, being called different names by various characters. Words find their own unique spellings, recalling the guerilla punctuation tactics employed by Hubert Selby Jr (Last Exit To Brooklyn, Requiem For A Dream).
And then there is the cadre of historical, literary, and film characters who we meet along the space and time-bending road. In the very first chapter, our protagonist finds himself in a Road Warrior-like post-apocalyptic wasteland surrounded by a gang of physically deformed/altered attackers, one of whom resembles Dick Van Dyke. After being arrested for allegedly attempting to steal a supermarket, the manàcity starts to be referred to as Snake Plissken. During a particularly revealing therapy session, "Sid," as he is temporarily known, confuses his own reality with that of Holden Caulfield, The Great Gatsby's Nick Carraway, and Steve McQueen's character in Bullitt. A recurring antagonist is Dr. Josef Mengele (Slayer's Angel of Death), while Arthur Miller, Oscar Wilde, and Rod Serling are all seen in passing. And the list goes on and on…
The Kyoto Man is a very well-written, very witty, self-described "pulp science fiction novel." While it is very intelligent, at no point does it take itself too seriously. Referencing the paperback version that I am reviewing, the author chose to include a blurb attributed to "satisfied reader" that reads as follows: "Pedestrian and irrelevant. Tripe. Guaranteed to never win the Pulitzer." While it may appear intimidating at first glance, once the style and format sink in it will pull you right along on the wild ride. Highly recommended, easily among the top three new books I've read in 2013.
Book Review: The Kyoto Man – Author D. Harlan Wilson