KURONEKO, the classic 1960s Japanese ghost-story by Kaneto Shindô, will be released as part of Eureka Entertainment's MASTERS OF CINEMA Series on Blu-ray on 24 June 2013.
Eureka Entertainment have announced that they will be releasing an updated 1080p edition of KURONEKO, the cult-classic film by Kaneto Shindô, the director of Onibaba, recently re-released in the West to great acclaim and theatrical success. This classic of '60s Japanese ghost-story cinema will be released on blu-ray, on 24 June 2013 as part of the Masters of Cinema Series with special features including a 24-PAGE BOOKLET with an essay by Doug Cummings, a reprint of a vintage interview with Shindô by Joan Mellen, and rare archival imagery.
[youtube]http://youtu.be/3jRRK-cOdkI[/youtube]
________________________________________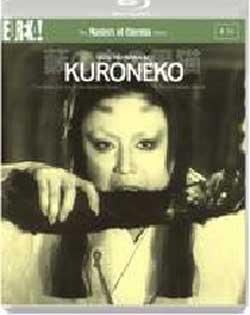 Kaneto Shindô's Kuroneko (Yabu no naka no kuroneko, or The Black Cat Inside the Bamboo Grove) — released to great acclaim in 1968 — is a sparse, atmospheric horror story, ascribing to the director's philosophy of using beauty and purity to evoke emotion. Eccentric and more overtly supernatural than its breakthrough companion piece, Onibaba, Kuroneko revisits similar themes to reveal a haunting meditation on duty, conformity, and love.
In this magnificently eerie and romantic film — loosely based on the Japanese folktale The Cat's Return — a mother and daughter-in-law (Nobuko Otowa and Kiwako Taichi) are raped and murdered by pillagers, but return from the dead as vampiric cat spirits intent on revenge. As the ghosts lure soldiers into the bamboo groves, a fearless samurai, Gintoki (Kichiemon Nakamura), is sent to stop their reign of terror.
Kuroneko remains a standout film of the kaidan eiga genre of period ghost stories often based on old legends or kabuki plays. Marking Shindô's first use of wire work as Yone and Shige battle against samurai blades, the film is subtly complimented by Kiyomi Kuroda's award-winning chiaroscuro cinematography, Hikaru Hayashi's vibrant score, and riveting performances from many of the greatest actors of Japan's golden age of film. The Masters of Cinema Series is proud to present Kuroneko for the first time on Blu-ray in the UK.
Available to pre-order from:
Amazon (Blu-ray) amzn.to/141h8tz
The Hut (Blu-ray) tidd.ly/d95a66b9
MovieMail (Blu-ray) bit.ly/12fcMLA
SPECIAL BLU-RAY EDITION FEATURES:
• Newly restored 1080p transfer, in its original 2.35:1 original aspect ratio
• Optional English subtitles (new translation)
• Original Theatrical Trailer
• 24-page booklet with an essay by Doug Cummings, a reprint of a vintage interview with Shindô by Joan Mellen, and rare archival imagery.