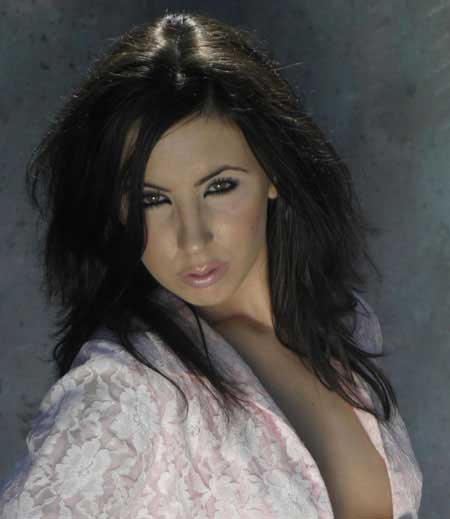 BIO:

With her exotic features, unbridled talent and velvety voice Alexia
is a contender for the crown of Scream Queen in her new homeland of Canada.
Alexia is a woman that commands attention, yet would never demand it. All eyes focus on her, yet she remains humble and easily approachable. As a former international beauty queen – it is clear that Alexia already has her fair share of admirers in her native New Zealand. With her eclectic cultural background of Russian, Spanish and Italian Alexia is set to make an impact on the North American market. With her dark gothic good looks and come hither stare, Alexia's reign as a beauty queen surprised her; "…it [pageantry] was never really something I was interested in. I am an actor. I've played a woman who wanted to become a man, a drug addicted teenager, a dominatrix and horror roles; hardly stereotypically 'beautiful' characters. So to be approached to enter pageants [Alexia has taken out several titles including Miss New Zealand, Miss Wellington and competed in Miss World NZ] was quite the shock. And from there, I just sort of fell in to modelling."
A classically trained theatrical and film actress, some of Alexia's many credits include: [Theatre:] Lead roles in "Romeo & Juliet", "Grease", "Bats", "Oliver", "As You Like It", "The Crucible", "Rocky Horror", "Gettin' Spicy". [Television:] Travel Careers & Training TVC x 3, Tourism Wairarapa TVC, Absolutely Positively Wellington TVC. [Movies/film:] "Home Improvements For Life" (lead role of Stacy Hullier), "Roamin' Holiday" (lead role of Audra), "The Locals" – extra, "Trippy" music video for Japanese group Sakura – bloody cheerleader, "Big Shock" music video for 48 May – featured screen kiss, "It's My Life" music video for False Start, featured
role of Vampira + many more.
Alexia's modelling credits include; Diesel, L'Oreal, independent alternative, fetish clothing labels as well as being the face of several high profile companies in their print campaigns and modellig for various musical groups. She also MC's and does personal appearances at charity events, expos, conventions and horror fests.
With several major projects in the pipeline and talent that belies her beauty – Alexia's is a face to watch.
www.freewebs.com/alexiafairbrother