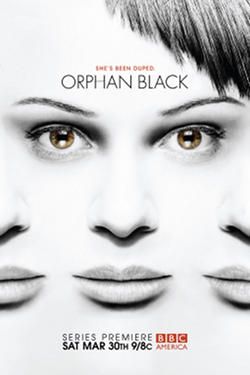 BBC AMERICA has a new show heading our way this Saturday. It's titled ORPHAN BLACK and the first couple minutes have been posted and fantastic minutes they are. I'm hooked, I'll tell ya.
All right, lets get down to it. ORPHAN BLACK is a 13 week project that goes like this:
Sarah hopes that cleaning out a dead woman's bank account will solve all her problems. Instead, they multiply at an unnerving rate. Smart, sexy, and pulsating with suspense – BBC America's new original series "ORPHAN BLACK" features rising star Tatiana Maslany (The Vow, Picture Day). She portrays Sarah, an outsider and orphan whose life changes dramatically after witnessing the suicide of a woman, "Beth," who looks just like her. Sarah takes her identity, her boyfriend, and her money.
But instead of solving her problems, the street-smart chameleon is thrust headlong into a kaleidoscopic mystery. She makes the dizzying discovery that she and the dead woman are clones… but are they the only ones? Sarah quickly finds herself caught in the middle of a deadly conspiracy, racing to find answers. "ORPHAN BLACK" premieres Saturday, March 30, 9:00pm ET/PT, as part of BBC America's Supernatural Saturday.
Led by Tatiana Maslany, the cast includes Jordan Gavaris ("Degrassi") as Felix, Sarah's thorny foster brother and her one true confidante; Dylan Bruce ("NCIS") as Paul, Beth's boyfriend – a decent guy with chiseled features, but more complicated than he appears; Maria Doyle Kennedy ("Downton Abbey") as Mrs. S, Sarah's hard-nosed working class foster mother from across the pond; Michael Mando ("The Killing") as Vic, Sarah's volatile ex, aptly nicknamed "Vic the Dick"; Kevin Hanchard ("Republic of Doyle") as Art, a veteran detective working alongside Beth who grows suspicious of her erratic behavior: and Skyler Wexler (Carrie) as Sarah's seven-year-old daughter. The ten-part conspiracy thriller, produced by Temple Street Productions, is co-created by Graeme Manson ("Endgame") and John Fawcett ("Spartacus"), with Manson also serving as writer and Fawcett as director.
[youtube]http://youtu.be/ZrOYfbdOEbU[/youtube]
Saturday March 30th at 9 PM on BBC AMERICA. I'd be there, this one looks like a winner.