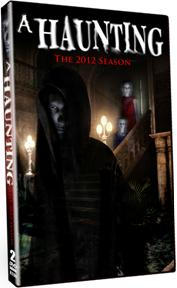 It seems like just about every channel on TV has some kind of paranormal show on the air and one of the first was A HAUNTING. It was off the air for a while but returned last year to the Discovery America channel and Timeless Media Group a division of SHOUT! Factory is making the 10 episode return available on DVD on April 23rd.
The press release breaks it down:
Showcasing some of the scariest stories of supernatural activity known to man, the highly popular horror anthology series A Haunting has returned! On April 23rd, 2013, Timeless Media Group, a division of Shout! Factory, will release the first DVD collection from the recently-resurrected series that chronicles true stories of paranormal and supernatural phenomena. Featuring all 10 episodes from the 2012 season in a 2-DVD set, A Haunting is guaranteed to send a chill down the spines of those who enjoy stories of possession, exorcism, and ghostly encounters.
After five years off the air, popular horror anthology series A Haunting returns for its fifth season on the Destination America channel. These chilling tales of the supernatural take the viewer inside real-life horror stories, with each one-hour episode featuring eyewitness accounts and cinematic re-enactments of some of the most spine tingling and inexplicable stories ever recorded. As the mystery and origin of each family's case is unraveled, audiences are left with a lingering sense that life after death is much more powerful – and sometimes more possessive – than anyone could have possibly imagined