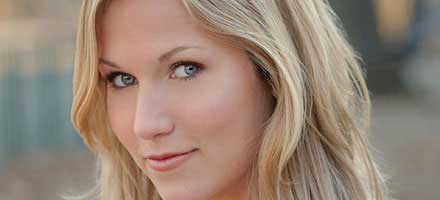 BIO:
Marissa Skell had barely moved into her new apartment in the Los Angeles area, when she got the news that she had been selected as one of ten girls out of thousands to star in the new Lionsgate reality show, SCREAM QUEENS, on VH1. So she quickly bade farewell to her apartment full of yet unpacked boxes, the $10 mattress she had just bought on CraigsList, and her new roommate. The next day Marissa moved into the beautiful historic home in the Hollywood Hills which provided the opulent location where the SCREAM QUEENS judges would put their chosen few through assorted dramatic challenges in the weeks to follow.*
*Ever since she was eight years old, Marissa only wanted to be an actress –
a good actress- above anything else. Before moving to Los Angeles, she graduated with a major in Theatre from Purchase College, the same respected
conservatory attended by Parker Posey, Stanley Tucci, Wesley Snipes, Edie Falco, and many other actors known for their raw, original performances. While at Purchase, Marissa delighted in pushing herself to the extreme, experimenting with every possible genre and technique of acting.
*Right after graduation, the resourceful Marissa purchased an old "beater" that she found in a junk yard for $1600, and drove across the country to pursue her career in Southern California.
*Now that she's an actress as a fulltime profession, Marissa carries her passionate, do-or-die attitude with her. She makes a conscious effort to avoid the trap that catches those who are more interested in having 15 minutes of stardom than mastering the art of their craft.
Since SCREAM QUEENS, Marissa has been working non-stop. She has appeared in Spike TV's new series 1000 WAYS TO DIE. She has starred in two short films, and she just booked a starring role in an independent feature, THE ONE NIGHTER, directed by Jill Jaress. (See **www.got-a-laugh.com)
Marissa plans to continue pursuing her dream of working as an actor with diligence, developing her expertise and insight along the way.*
Marissa Skell – Actress | Scream Queen | Horror Vamp | HorrorNews.net