[dailymotion]http://www.dailymotion.com/video/xek2p2_enemy-mind-trailer_shortfilms[/dailymotion]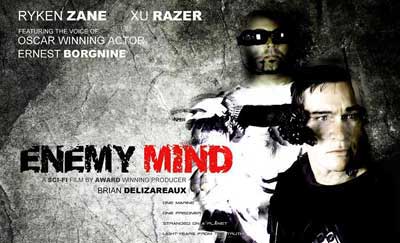 SMALL BUDGET PRODUCTION BUCKS BIG STUDIOS WITH INDIE SPIRIT & OSCAR-WINNING ACTOR
PALM SPRINGS – August 24, 2010: Enemy Mind, a science fiction-style film written, produced and directed by an upstart cast and crew, is now available on DVD. The film was shot on location in the Salton Sea area of Southern California's Imperial Valley in early 2010, and completed on a shoestring budget.
"I still can't believe we did this with only $9,000," marvels Xu Razer, who plays a futuristic terrorist in the film and is also credited as co-producer. "More than two-thirds of that money was spent to hire Academy Award Winning Actor Ernest Borgnine, who provides the voice for a key character in the film. I don't know of anyone who has ever pulled off something like this on such a small budget, and we are extremely proud of the accomplishment." Borgnine will receive a Lifetime Achievement Award at the 17th annual SAG Awards Jan 30 2011 to be broadcast on TNT and TBS.
The action takes place in the year 3074 A.D. when a prison transport ship carrying some of the galaxy's most dangerous criminals has crash-landed on a remote planet. Only two people survive the wreck: a terrorist accused of a bombing a spacecraft and a soldier ordered to ensure the accused prisoner stands trial for his crime. Each becomes determined to control the other in the name of conviction and faith.
"We wanted so badly to make a movie that would test the boundaries of perception and the concept of reality as it pertains to certain ideologies," explains Razer, who also moonlights as a doorman at a Palm Springs bar. "The themes are powerful. I believe this is something that will resonate with a wide range of audiences, and we've already gotten tremendous feedback from websites like DreadCentral.com, which focuses on the horror genre."
Written and directed by Brennan Reed, Enemy Mind is now available for VOD at www.bigstar.tv and indieflix.com and on DVD at Amazon.com and at select Video Depot locations in Southern California.