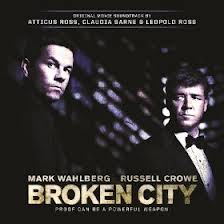 Composer Atticus Ross is sharing his musical inspiration behind the soundtrack for "Broken City." Best known for his and Trent Reznor's Oscar-winning score for "The Social Network" and his masterful work on "The Girl with the Dragon Tattoo" and "The Book of Eli," Ross has curated a music playlist exclusively for Rdio. This heart-pounding soundtrack draws inspiration from '80s glam rock, industrial new wave, and other beloved scores.
"Broken City," which hits theatres today, follows a disgraced ex-cop turned private detective (Mark Walhberg) who uncovers a much grander scandal when he's double-crossed by the mayor of New York (Russell Crowe).
Ross takes us along this action-packed journey with music that builds an equally compelling sound narrative, bookending the playlist with David Bowie tracks and sprinkling his own signature haunting sound from the film in between.
"Broken City" – Atticus Ross' Inspirations Behind the Soundtrack Album
1.David Bowie – Heroes
2.Tangerine Dream – Love on a Real Train (Risky Business)
3. Atticus Ross, Claudia Sarne & Leopold Ross – Broken City
4. Steve Reich – Music for 18 Musicians – Pulses
5. Nina Simone – Wild is the Wind (original Version)
6. Giorgio Moroder – Love's theme (Midnight Express)
7. Burial – Night Bus
8. Atticus Ross, Claudia Sarne & Leopold Ross – Broken Men
9. Mogwai – I Know You Are, But What Am I ?
10. Brian Eno and David Byrne -Regiment
11. Atticus Ross, Claudia Sarne & Leopold Ross – Bleeding Heart
12. Nine Inch Nails – A warm Place
13.The Cure – Plainsong
14. Angelo Badalamenti – Laura Palmer's theme
15. Atticus Ross, Claudia Sarne & Leopold Ross – Chasing Shadows
16. Kraftwerk – The Man Machine (1978 version)
17 .David Bowie – Warszawa
"Broken City" soundtrack: http://rd.io/x/QF5RPmYc5A