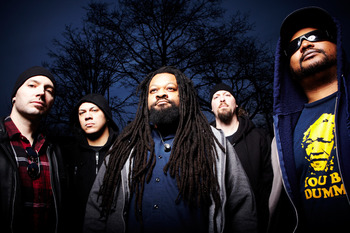 GOD FORBID
HorrorNews.net Interview
Byron Davis – Vocals
Doc Coyle – Lead Guitar / Vocals
John "Beeker" Outcalt – Bass
Matt Wicklund – Rhythm Guitar, Lead Guitar
Corey Pierce – Drums
1. Let's talk horror! Are the members of GOD FORBID big horror fans – names  of the bands favorite movies?
I appreciate Horror mainly for its aesthetics. I have always been attracted to beauty in darkness. One of my favorite films is Bram Stokers Dracula! My last band HIMSA really embraced the Horror theme in its imagery. In fact, the record I did with them was titled "Hail Horror".
2. Metal and Horror ( In my mind ) go hand and hand, or fist and fist. If  you could hand pick one of your songs and put in any horror movie – what song and what movie?
I would choose "Pages" from our new album. I think it has a dark and sexy vibe to it. ;). Hahaha. I think it would fit nicely in a modern Vampire movie.
3. What do you think about musicians like Rob Zombie, Marilyn Manson, Slipknot, and Slash all getting involved in horror?
I think it's very cool! It's a natural fit so it makes a lot of sense. It's also a great vehicle for the music to get to the people.
4. Have you ever been musically inspired by horror movies?
Not directly. I find a lot of inspiration from classical, metal and pop music. Although, in HIMSA, we used to love to sample Bruce Campbell quotes in our music. "First you wanna kill me…now you wanna kiss me…blow."
5. I'm a fellow New Jersey metal head. Why do you think NJ is a great place for Metal?
Metal is loud and aggressive and parts of Jersey mirror that I think. Hahaha. Also, there is a rich history of hardcore and metal in the Northeast to draw from.
6. Favorite Heavy Metal t-shirt of ALL TIME???
A Nitro O.F.R. Shirt if I could ever find one!!!
7. Do you have a favorite song to play live, and why?

Currently "Overcome" because I love to play the solos in it. Epic solos are my favorite!
8. Do you have a favorite venue?
The "Starland" in Jersey, Studio 7 in Seattle because I basically lived there for years and The NORVA because it has the best backstage EVER.
9. Any good road stories you can share with our HorrorNews.net readers, that won't get anyone arrested?
We stopped at a truck stop on The Trespass America Tour recently and I saw something horrible in the Men's Room. A man stood at the urinal next to me urinating with his baby on his chest in a baby carrier. The man was short. The urinal was large. Do the math. Ewww.
10. What's next for GOD FORBID?
Continue touring and getting this album that we are so proud of out to the masses! I am constantly writing new music so I am really looking forward to getting back to the creative process with the boys after that as well!