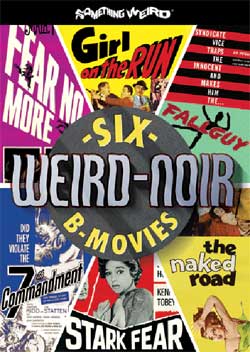 Get ready for hardboiled film noir like you've seen before! On September 25th, Image Entertainment and Something Weird Video unleash Weird-Noir on DVD, a thrilling collection of pulp-action ripe for cult status! This 2-disc set includes six titles and will be available for an SRP of $19.98 with a pre-book of August 28th.
Weird-Noir is buzzing with B movie fun with these unforgettably tawdry and twisted tales, four of which are appearing on DVD for the first time!
GIRL ON THE RUN (1953, B/W, 66 Minutes): A hootchy-kootchy whodunit set at a small seedy carnival where a reporter tries to discover who killed his boss while his girlfriend inexplicably joins the burlesque show! Pure carny-noir.
THE NAKED ROAD (1959, B/W, 74 Minutes): When a woman is left with a corrupt Judge as collateral for a speeding ticket (say what?!), a Good Samaritan bails her out… then holds her prisoner as a future sex slave in this utterly off-kilter, truly weird Weird-Noir.
THE SEVENTH COMMANDMENT (1961, B/W, 82 Minutes): A preacher with amnesia and the power to heal (!) quickly plunges into the gutter when his ex-girlfriend-with-a-grudge shows up to blackmail him in this marvelous pulp mix of sex, revenge, and outright obsession!
FEAR NO MORE (1961, B/W, 78 Minutes): Accused of killing a woman on a train, Sharon Carlin runs home to find another corpse there too!
FALLGUY (1962, B/W, 62 Minutes): Hot shot teen Sonny Martin stops to help the victim of an auto accident but quickly realizes he's stepped into a murder in progress.
STARK FEAR (1962, B/W, 85 Minutes): After the abusive husband of cult fave Beverly Garland disappears, you'd think she'd celebrate. Instead, she tries to find the bum and, as expected, things get worse.
These six movies celebrate the oddities that lurk in every city, and in every one of us! They introduce a genre that has been kept in the dark for too long: Weird-Noir!