Exclusive HorrorNews.net Interview w/ Matt Tybor (The Bunny)
Musical Group : The Bunny The Bear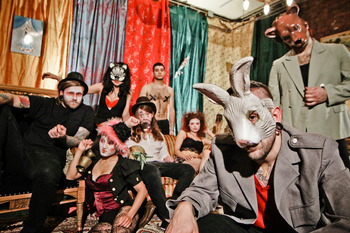 How was THE BUNNY THE BEAR created?
The Bunny: I started the band in the beginning of 2008, on quite the random impulse, actually. Out of nowhere I felt the need to start writing some fun music; I could freely experiment with and call it "The Bunny The Bear". What made me think running around a stage in a plastic Bunny mask? No clue. But I ran with it. Haha.
How would you describe the music of THE BUNNY THE BEAR?
The Bunny: Even as the writer I have a hard time with that. I say we're a weird ass experimental band, blending a handful of genres and doing things a tad different than others out there today. Yea, I suppose we can be considering many different things but nothing seems to sound or feel right when it comes to this music.
Who are your major musical influences?
The Bunny: My man musical influences come from my brain, emotions and life in general. As for band influences, I listen to bands like Brand New, Chicago, Manchester Orchestra… Stuff like that. I don't really see much of that style in my writing, it's weird.
Tell us about the theatrical aspect of your stage show?
The Bunny: I think the masks bring a tad of that to the table. Aside from that, I just think the way we hit the stage with nothing left to lose nightly, adds a lot of the wacky theatrics were known for. You never know what one of us is randomly going to do during a set haha.
It can become more of a "show" at times.
Who or what is your inspiration as it relates to the theatrics?
The Bunny: Anything we do, wacky or theatrically on stage is straight from our current emotions, nothing rehearsed or taken purposely from an outside source.
 Do you have a favorite venue?
The Bunny: Probably the Roundhouse in, I believe, London.
 Are you guys horror movie fans? I hope. The Bunny: We definitely all are crazy horror movie fans. Check out our latest music video for "Lonely" and you will see that we love blood and guts!
 What are some of your favorite horror films?
The Bunny: Cannibal Holocaust has to be one of my all time favorites, in general I love a lot of older horror movies, but I definitely keep up with all newer ones.
 What's next
The Bunny: Going to have a cigg then off to take over the world! We are heading out to support Modern Day Escape with our label-mates Dr. Acula on the Under The Gun Tour.