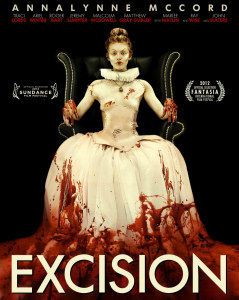 Anchor Bay Films presents the harrowing coming-of-age horror film Excision from writer director Richard Bates Jr., which Sundance Channel deemed "Without question the most mind-blowingly grotesque film to screen at this year's fest." Boasting an eclectic cast including AnnaLynne McCord (The CW's "90210," Transporter 2, Fired Up, FX's "Nip Tuck"), Traci Lords (Blade, Zack & Miri Make a P*rno), Ariel Winter (ABC's "Modern Family"), Roger Bart (Hostel Part II, Law Abiding Citizen, American Gangster), Malcolm McDowell (The Artist, A Clockwork Orange, Rob Zombie's Halloween) and cameos including director John Waters, Marlee Matlin and Ray Wise , Excision comes to Blu-ray™ for an SRP of $24.99 and DVD for an SRP of $22.98. Pre-book is October 3rd.
Starring AnnaLynne McCord, Traci Lords, Ariel Winter, Roger Bart, Jeremy Sumpter and Golden Globe® nominated Malcolm McDowell .
Based on a short film of the same name, Excision follows a disturbed and delusional high school student, Pauline (AnnaLynne McCord), with aspirations of a career in medicine, goes to extremes to earn the approval of her controlling mother (Traci Lords). While dealing with being an outcast teenager and obsession over curing her sister's cystic fibrosis, Pauline becomes continually deranged as her fascination of the surgery and the human flesh grows into something abysmal and demonic.
Bonus features on the Excision Blu-ray™ and DVD include an audio commentary, a behind-the-scenes featurette and collectable O-card packaging (for the DVD).