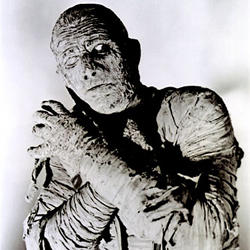 Here's some unexpected news. According to Variety, Universal is prepping another foray into the "Mummy" franchise. This will not be another chapter in the 1999 reboot that starred Brendan Frasier and Rachael Weisz but a whole new take on the Karloff classic.
So far all that has happened is they have brought writer Jon Spaights on board. He's the man behind "Prometheus" and "The Darkest Hour" so the man's got some chops.
Here's what Jon had to say about things: "I see it as the sort of opportunity I had with Prometheus: to go back to a franchise's roots in dark, scary source material, and simultaneously open it up to an epic scale we haven't seen before."
Has there been a remake of a remake this close to the original remake before? I don't think so. Very interesting is all I can say. We'll see how things go, hopefully this is a good thing. I like the "dark, scary source material" quip so hopefully Mr. Spaights will be able to come up with something new and amazing.