Horror Talk with Rob Delamorte
Hello again Fiends, it's your ghoul with the gear, Rob Delamorte back with an extremely special edition for you. I have all the usual gory goodies for you to check out, along with a very special interview, Ms. Friday, Adrienne King, who was generous enough to speak with me in length about so many things, including her return, and oh yes, wine. Her own label to be exact, but we'll get back to that later. As usual, let's get down to some horror business.
There's plenty to get your undead flesh moving as far as upcoming film releases in the coming months, and I promise you they'll be plenty of blood to go around.
First up is the sequel to 2001 Maniacs, Field of Screams starring Devil's reject, Bill Mosely, and cult horror musical alumnus, Nivek Ogre. This time around the southern residents of Pleasant Valley take their jamboree on the road to Iowa where they encounter two spoiled heiresses who are in the midst of taping a reality show, The Simple Li…uh, I mean Road Rascals, along with their cast and production crew. The South will rise again, and murder will be an absolute reality when F.O.S. comes to dvd on July 20th.
The sequel to one of the scariest films of all time, Rec2, spreads its viral mayhem this month. The film stars Manuel Velasco, and picks up only fifteen minutes from where the last film left off, taking us back to the quarantined apartment building where a virus has turned the occupants into raging, drooling beasts. A SWAT team is sent in, only to find out that the situation is more horrifying than they could ever imagined, and it must be contained at every cost. Rec2 is a Magnet Release, and plagues dvd shelves on July 9th.
Japanese horror master, Fruit Chan, gives us the remake of Don't Look Up, starring E.T. child star, Henry Thomas and Tarantino favorite, Eli Roth. The story features a film production in Transylvania which becomes tainted by an old piece of celluloid containing grisly images of a woman's murder. The 1996 original scarefest was reminiscent of the work of F.W. Murnau, eccentric visionary director of the silent film classic, Nosferatu. The gore flies on July 27th from E-1 Entertainment.
There's plenty of music to wake the dead this month, and I would now like to introduce to one band you should give a listen to right now. Crazies and Skeletons, please welcome Team Cybergeist to your music library.
Cybergeist is a collaborative project founded by Angel Bartoletta, former drummer of the band, Dope, are soon to release their release their independent release, How To Destroy Something Beautiful, in the US. This twenty six track double disc features personal friend, Sally Debauchery of Psykill, Morgan Lander of Kittie, Jess Diablo of Kidney Thieves, Koichi Fakada of Static X, and literally an army of guest musicians; sixty to be exact! This band does kick ass, and i'd be careful because that's alot of boots to the skull! The album marches toward us on July 10th.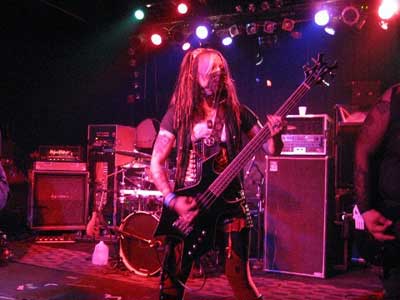 The Mayhem Tour thunders into a town near you this dirty black summer. The outdoor festival featuring Master of Macabre Ceremonies, Rob Zombie, Five Finger Death Punch, Lamb Of God, Hatebreed, and the return of Korn should have everything it takes to make your ears explode into a sonic bloody mess when it creeps toward a state near you. Check the official website for dates`and times.
Just a little sidenote, it is in fact the one year anniversary of Michael Jackson's death, so with that in mind I have only one thing to recommend to you from the King Of Pop, Thriller..hey, it's only the greatest horror music video ever made. Directed by American Werewolf's, John Landis, this video scared the hell out of the year 1985 in a major way. It also featured a horror rap by none other than the great Vincent Price, this video is definitely worth another look. Stay away from the graveyard.
There are some fantastic comics ready to creep, and crawl to your local shop.
First up, The Transporter meets Dawn Of The Dead in the highly stylized series, Driver For The Dead, written by Snakes On A Plane scriptwriter John Heffernan. The story follows Alabaster Graves, a twenty something mortuary chauffeur who is assigned to transport the body of famed voodoo priest, Mose Freeman. With Freeman's super sexy daughter heating up the passenger seat, Graves must cover the distance to New Orleans to retrieve the remains with a resurrectionist who receives power from stealing body parts, which is exactly why Freeman's body would be the ultimate prize. The first issue revs into gear from Radical Publishing in July.
Hell House,written by Chad Feehan and Ryan Dixon, with incredible illustrations by Tsubusa Yoroza. The book focuses on a Halloween themed Hell House where a shocking event occurs, leaving a small number of survivors who must battle their way out of the collapsing structure, while fighting an unspeakable force that seeks to consume their very souls! From the looks of the cover, this series looks amazing, and definitely worth a read. Escape from Hell itself this September courtesy of Viper Comics.
If you're into scares in the literary sense, there's plenty to look forward to this month in your local bookstore.
The Killing Kind by Ryan Smith, author of Death Bringer. The story focuses on a group of spoiled rich kids, and a rented beach house with the perfect setting for partying, drinking, and acting a damn fool. The neighbors won't be able to hear their music, but also their screams when a group of killers crash the decadent weekend. Yes, there will be plenty of blood on tap July 10th from Leisure Books.
The Delamorte Deadly Delight this month is the already classic photography book, Misery Obscura. With detailed information, and sick photographs by former Danzig bassist, Eerie Von. This book gives us the clearest photographic evidence of The Misfits via the Danzig Years, Sam Hain, and the solo debut of Danzig on record. This beautiful time capsule follows on The 'Fits meteoric rise in the punk scene, beginning all the way from their start in New Jersey's Lodi High School. The book also follows Eerie's fame rise to metal icon with Danzig, the solo band that became a superbeast in their own right. Including pictures by Danzig pal, Rob Zombie, and John Stewart (yes, The Daily Show host is a closet Zig head), this book is a must have for any Misfits fan, or someone who wants to witness the power of Glenn Danzig in his many incarnations with their own eyes. Misery Obscura captures killer in this gem from Dark Horse now.
Looking for something ghastly on your television this month, Carol Anne? Well, the tv people have what you need in the coming months also.
In the last edition, I had mentioned production on The`Walking Dead in Atlanta. Here's some more news that will make your hair stand on end, Greg Nicotero and the masters at KNB are bringing their amazing work to the television forefront for this series adaptation of the hugely popular graphic novels. Nicotero states the zombies in the series resemble Kirkman's art, and have a little less resemblance to the work done for Romero's undead. Read the full story at AMC.COM, also including Nicotero's tutoria lon how to create a more realistic headshot. You've been warned, stenches.
Not a fan of Twilight? Trust me, I completely understand. But be sure to check out Ashley Greene when she stars as Summer, a young runaway in search of her father in the network television premiere of Summer Moon. Follow the beloved tween vamp, and supersexy Sobe spokesperson when she hooks up with a handsome stranger only to be held captive in a basement. Things don't look sparkly when the man's incestuous mama, and sociopath papa enter the picture forcing her to take desperate measures to survive. See if Greene has real acting fangs when the movie becomes trapped on ChillerTV in July. Check ChillerTV's website for airing times.
There's alot of chillingly cool merchandise creeping your way very soon. Here are just a few to add to your macabre mantle.
First is the deluxe Exorcist boxed set of possessed Reagan, complete with motorized spinning head ..awesome! The bed on which she rests is 7′ long, 6′ across, and over 5′ tall. Reagan is articulated at the neck, shoulders, and forearms, motorized action also allows the head to rotate 360 degrees time in sync with the actual movie scene. The figure also plays the film's music, but she doesn't tell you what your mother does in hell, unfortunately. They are limiting our dear Reagan to ONE PRODUCTION RUN, so get one before she goes quicker than Max Von Sydow got shot out of the bedroom window.
And now without further ado, and with absolute pleasure I give you my interview with one of the reigning scream queens who was just recently resurrected from horror obscurity for the brand new festival fave, Walking Distance. She is also helping to celebrate her personal love, and loyalty to her horror debut, as sole survivor, Alice, in Friday The 13th, which has just celebrated its 30th anniversary, and is also introducing the world to her incredible new business venture, Crystal Lake Wines, which is available to everyone through their 800 number that I will give you late. and if available, I assure you, Ms. King will take time out of her day to say hello to every one of you, she's that great! So here it is. I spoke to the amazing, sweet, artistic,and generous actress about of course, the anniversary, being brought back to the horror limelight, the Tao Of Jason (yes, philosophy), and also her her brand new life and career in Southern Oregon wine country.
Horror Talk:
First of all, I want to say congratulations on the anniversary, that's really amazing for you i'm sure, and I absolutely appreciate your speaking with me tonight. So, the first question I wanted to ask you was about devotion. When an actor who begins in horror becomes well known, or super famous, more than a handful decide they want absolutely nothing to do with their horror roots. So, with that in my mind, I wanted to ask you why you are so loyal to the series.
Adrienne:
Very simply because I feel I want to give back to my Friday The 13th fans. First off, I was tracked down by Peter Rache, the author of Crystal Lake Memories, to do some stuff with the book, that took some doing to return to a frightening time in my life, but when he told me how global it was (the film), I was so ecstatic, and it just blew my mind. So, I attended my first convention in Secaucus, I had never intended to do something like that because of some bad things had occurred when I was part of the series, I was literally scared for my life back then. But when I attended, I never saw so much love in my life, and it also seemed like alot of the fans that I had talked to had received strength from my character. I always knew there was a bigger picture, and when I saw that Friday The 13th helped people on such a positive, and surreal level, and that's when the stalking started, so I really get the chance to really enjoy it in the 80's. So, jump to now, I found out the fans found strength in their own lives through my character, I felt the desire to give back as much as I can. When people are passionate, about the genre, when something drives a person, i'm so inclined to help them with anything that I could help with, including their writing, then I am absolutely ready to do so.
Horror Talk:
Now, I have a few film questions, Alice was very pure, and somewhat a doe eyed innocent amongst all these debaucherous teens that were being killed off. Do you think that she actually survived because of her innocence, or was it something more, for example a fighting spirit?
Adrienne:
Yeah, I totally think it's about the fighting spirit. People could relate to Alice because she was the girl next door, she was truly a survivor, which I think we all are. It was truly my first role, and I the reason that I had the confidence level that I did was because of my past theater experience, and the fact that Betsy had told me to just go all out, be as physical as you need to be, and I had it in my mind during the filming of the final scene that everyone was dead, I had to do anything at all to survive. And the scene was so real, that I accidentally knocked Betsy around hard a few times. Ummm…it was totally a real moment for me.
Horror Talk:
So I have heard you say that you thought Alice was having a dream in the beginning of Friday Part 2, and possibly wasn't killed. So tell me if the producers planned to bring her back somehow, would you ever continue with the series?
Adrienne:
There was all of these flashbacks that happened in Part 2, if you remember, in the ice pick scene, and then you see Alice in a completely different state, so what did Jason go get a license after learning how to drive, or did he board a plane? It just did not make sense that her death would be real in those circumstances. You never see her body, you see glimpses of her clothes on the floor; you never know. But, Jason became the star which I think is brilliant on Paramount's behalf, but I maintain that it was a dream..I never found the need to bring her back, and I guess neither did Paramount. I, along with Betsy were asked to make a small appearance in the Friday remake, which I was happy to do, but it just never happened.
Horror Talk:
Tell me a little bit about your comeback in Walking Distance, which i'm so happy about by the way?
Adrienne:
Oh yeah, i'm very excited about the film. It resurrected me from the dead, and I wanted to do an independent; because that's where my roots are. When people have money, they get sloppy, I mean not everyone, but it happens alot. I read the script, and it was very interesting. I read alot of scripts, but I loved this script and thought it was fantastic. So I said listen, the role you're offering me..is there enough to sink my teeth into if this is to be my comeback. It's such a powerful movie, we're talking caliber talent, it gave me the chance to lace up my boots again, and kick ass. A major is slated to pick it up, the reviews, everyone just went crazy over it. With independent films, it's a long road, but it seems like it's doing alot. It was also one of the best received films at the Fangoria Festival, so I am so happy, and have alot of hope for it.
Horror Talk:
I think that your new wine venture is an incredible idea, definitely something new, and original,tell me how you became involved in this project?
Adrienne:
Well, the whole deal is my husband and I were planning on moving to the boonies in Oregon. What happened was he was actually the distributor for United Film Features. My husband financed, and distributed movies, and he hooked up with George Romero. If you look at the credits to films like Dawn Of The Dead, you will see that he was in charge of distribution. We both retired after spending a a decade in L.A., or Holly-weird, as I like to call it. The last convention that I went to before we moved, I bumped into Bruce Campbell. We told him we were moving, and he asked me where..dot..dot..dot.., long story short, Bruce was already one of neighbors there. Just a little side note for your readers there. So when we moved, I was a wine club member, and my husband and I hooked up with the the best, and oldest winery in our county. It's family owned, and one of the owners asked me if I would like to be a wine pourer, and I was like I don't know how. Dot, dot, dot, I now have my pouring license, and I love it, and it also just so happened that the co-owner was a huge Friday fan, so he says to me let's try to think of something, and we would take a percentage to give back to the community, which in retrospect very small. So we said we will have a huge F13 night, and we'll sell the wine. So I took a painting that I had been working on of Alice in the canoe, which you can purchase on my web site. I made the cabernet label red, for obvious reasons, and blue for the Chardonnay. All of a sudden, the order lines were going crazy, everyone loved it!
Horror Talk:
How can our readers purchase this fine product, and what would they receive with it?
Adrienne:
You can get it through my 800 number, because we don't necessarily have a website. There is a two bottle minimum order, but with each absolutely delicious bottle purchased, I will also send my autograph as a huge thank you. But besides that, the wine is so fabulous, and here I am with my very own brand of wine. People all over the world want our wine, but we can't do that because it is illegal to ship to other countries, but we're starting out slowly, when it stops becoming fun for us, then we'll stop. But, for right now we're absolutely happy with the reception.
Horror Talk:
Adrienne,thank you so much for all of your time with me tonight, I cannot wait to see Walking Distance for myself, and taste the wine when I order, you have such a great night, I, as well as all your fans are so glad that you have decided to return to the genre.
Adrienne:
I had such a great time, you're extremely welcome ..I hope you love the wine, and that we get the chance to talk again, and be sure to tell me what you think of Walking Distance, okay? Keep in touch..bye bye
So there you have it. Many things to look forward to, and an in depth interview with a lovely, and kind Scream Queen, well, I hope I tided your cravings, until next time. And remember, the only thing that can impale your dreams is your own negativity..be good to each other.
Sweet Nightmares, And Even Darker Dreams!
______________________________
Hey there fiends! For those of you who read this week's edition of Horror Talk, with me, Rob Delamorte, and you were interested in all of the fine products Ms. King has to offer, here is the information that you need to make your evening at the lake complete:
You can receive Crystal Lake Wine by calling 1-800-781-9463,. and also check out the Crystal Lake Winery Facebook page. The winery is located in Southern Oregon, and has their phone lines open until 5pm, but remember it is Pacific Time, which means whatever time it is where you are located, the time is always three hours behind yours, so keep that in mind. The wine comes in Cabernet, and Chardonnay,the bottles are $20.00 each, and there is a two bottle minimum per order.
Also, you can pick up Adrienne's special edition handmade poster, Ballet Of The Machete, which is now $20.00 in celebration of the Friday anniversary. You can receive this beautiful item, personalized autographs, and also her other gorgeous paintings at Adrienneking.com. Also, just a side note, due to issues with her personal Facebook page, and the issue of hiring an assistant for herself, the page may no longer be available in the coming month, so the best way to contact Ms. King is through the winery page, when she gets the time, she will be sure to answer all of your questions.
Sweet Nightmares, And Even Darker Dreams!
SIN-cerely, R. Delamorte' aka Mr. Death