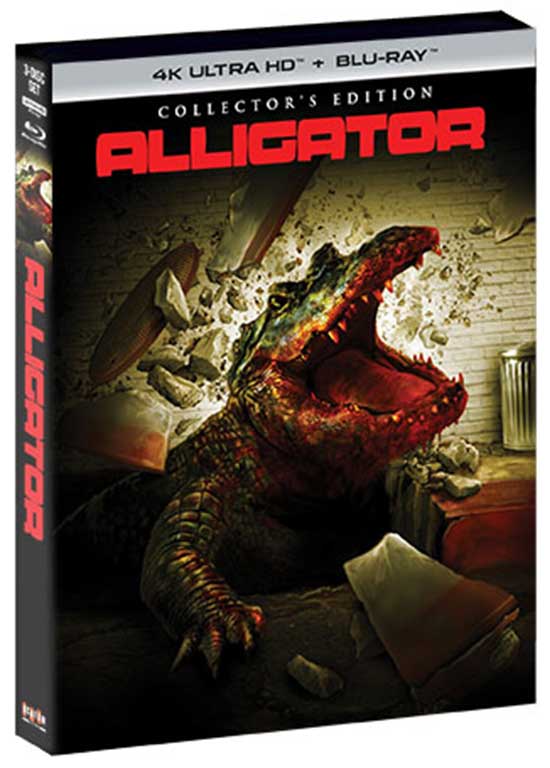 SYNOPSIS:
A baby alligator is flushed down a Chicago toilet and survives by eating discarded lab rats, injected with growth hormones. The small animal grows gigantic, escapes the city sewers, and goes on a rampage.
REVIEW:

Urban legends, by now we've heard them all; killer calling from inside the house, the kidney thief, killer in the backseat, saying 'Bloody Mary' in the mirror three times, the licked hand and more. These myths are so prevalent that there are websites and television series devoted to the validity of these stories, Snopes.com and Mythbusters being the most well known. Thankfully they're also ripe material for many horror movies; "When a Stranger Calls," "The Harvest," "The Hitcher," "Bloody Mary" and "The Candyman," "Campfire Stories," and of course, "Urban Legend." Perhaps one of the most well known, and still believed by some inhabitants of New York City, is the subject of "Alligator."
As a young girl Marisa's mother lets her buy a baby alligator from a show, which she names Ramon, while on vacation, but later her father decides she can't have it and flushes it down the toilet alive. While the opening credits role we watch as the baby gator travels through pipes and waterways until it arrives in the sewer system. Years later David Madison, a Chicago detective, played by Robert Forster ("Heroes", "Mulholland Dr,") is investigating body parts that keep turning up in the water treatment plants. Marisa Kendall, all grown up, is a reptile zoologist played by Robin Riker (a prolific television actress including "The Bold and the Beautiful" and "Highway to Heaven.") David and Marisa soon discover a laboratory has been dumping the corpses of animals on which they've been doing hormone experiments into the sewers and Ramon has been making a meal of them.
"Alligator" concentrates much of the story on character as David has a shaky past in which he lost a partner and falls for Marisa who, of course is the little girl that lost her baby Ramon to the sewers and grew up to be a zoologist. More and more body parts turn up as David is hounded by a reporter who knows of his incident in which he lost his partner. Interspersed are surprisingly effective scenes of the gator feeding on people who find themselves in the sewers as he begins to expand his explorations for food. In the beginning Ramon is rarely shown, some of the first good shots are from the reporter's camera after it's recovered. They make good use of mixing shots of a live alligator on miniature sets and a fake 'life sized' gator to interact with the actors. I was reminded of "Jaws" in how the less that was shown of the monster the more effective the tension was. However, by the end of the movie, particularly when the rampaging begins, we get to see so much of it in daylight that no amount of jump cuts and action shots could prevent a loss of suspension of disbelief.
There's also an entertaining high point as Col. Brock is brought in to take over the hunt for Ramon after David is taken off the force. Brock, played by Henry Silva ("Dick Tracy", "The Manchurian Candidate") is a misogynistic big game hunter who's presence serves no purpose to the story other than becoming gator food, but it's a great role and watching his chiseled pinched face as he recruits some local toughs is a worthy distraction. This is a good monster film that sits perfectly between the switch from the seventies' tension filled thrillers to the eighties' psychopathic slasher flicks and remains a simple and enjoyable time.
Sadly, much of the urban myths and legends have been mined for their worth of cinematic gold and there aren't really any left. At least none that are worth making a movie out of. While gross and not only false there shouldn't be a movie about Evian water being filtered with cow's blood. The heyday of urban legend inspired movies may have passed us by but at least we can relive them through the movies left for us such as "Alligator."
Bonus Features
DISC ONE (4K UHD – Theatrical Version):
NEW 4K Scan From The Original Camera Negative
Audio Commentary With Director Lewis Teague And Actor Robert Forster
DISC TWO (BLU-RAY – Theatrical Version):
NEW 4K Scan From The Original Camera Negative
NEW Everybody In The Pool – An Interview With Actress Robin Riker
NEW Wild In The Streets – An Interview With Director Lewis Teague
NEW It Walks Among Us – An Interview With Screenwriter John Sayles
NEW Luck Of The Gator – An Interview With Special Makeup Effects Artist Robert Short
NEW Gator Guts, The Great River, And Bob – An Interview With Production Assistant, Now Famous Actor/Director/Producer, Bryan Cranston
Audio Commentary With Director Lewis Teague And Actor Robert Forster
Alligator Author – An Interview With Screenwriter John Sayles
Additional Scenes From The TV Version
Teaser Trailer (NEW 2K Scan)
Theatrical Trailer (NEW 2K Scan)
Trailers From Hell – Filmmaker Karyn Kusama (Jennifer's Body) On ALLIGATOR
TV Spots (NEW 2K Scan)
ALLIGATOR Game Television Commercial
NEW Newspaper Ad Still Gallery By Drive-In Asylum
Still Gallery (Movie Stills, Movie Posters, Lobby Cards, And Behind-The-Scenes Photos)
DISC THREE (BLU-RAY – Television Version)
The Extended TV Version In HD For The First Time (NEW 4K Scan From The Original Camera Negative With Additional Footage Scanned From An Internegative)
Alligator (1980) is now available on blu ray per Shout Factory