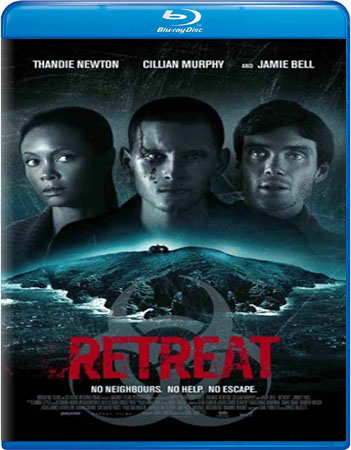 Debuting on DVD and Digital February 21st
In the tradition of Dead Calm and A Perfect Getaway comes the terrifying psychological thriller Retreat, debuting on DVD and Digital February 21st from Sony Pictures Home Entertainment. Golden Globe® nominee Cillian Murphy (Inception, The Dark Knight), Thandie Newton (2012, RocknRolla, upcoming Tyler Perry's Good Deeds) and Jamie Bell (The Adventures of Tintin, The Eagle) are the only inhabitants of a remote island off the coast of Scotland when a deadly virus infects Europe and cuts them off from civilization. As they fight for survival, it becomes clear the virus is not the only thing they need to be concerned about. Bonus materials include the behind-the-scenes featurette "The Making of Retreat" and a photo gallery. The DVD will be available for $30.99 SRP.
Synopsis:
Taking an isolated break on an uninhabited island, Martin (Cillian Murphy – The Dark Knight, 28 Days Later) and Kate (Thandie Newton – 2012, RocknRolla) are about to find that their island retreat is about to become a prison of unimaginable terror. When a blood soaked stranger (Jamie Bell – The Adventures of Tintin, The Eagle) stumbles through their door claiming an apocalyptic virus is sweeping across Europe, their lives are turned upside down as they face what could be the end of everything they know. Using all means necessary, they must fight to escape the approaching threat. But escape is only the beginning of their terrifying fight for survival …
DVD Bonus Features Include:
– The Making of Retreat – Featurette
– Photo Gallery
Directed by Carl Tibbetts from a screenplay by Carl Tibbetts and Janice Hallett, Retreat was produced by Gary Sinyor, with James Atherton, Simon Crowe, Sir David Frost, Paul Galbraith, Michael Rosenberg, Dominic Wright, Jan Pace and Jacqueline Kerrin serving as executive producers.
Retreat has a running time of 86 minutes and is rated R for violence and for language throughout.