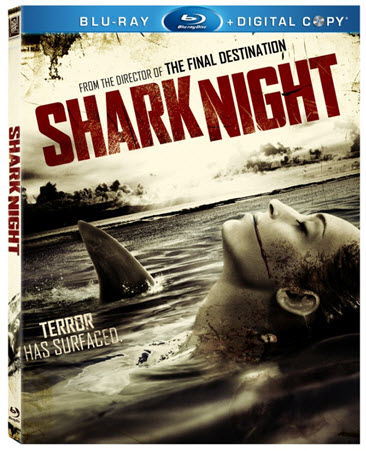 On  Blu-ray and DVD January 3rd
Your deepest fears are about to surface with this frightening tale of seven vactioners whose fun weekend at a lake house turns into a nightmare when they become victims of a series of hellish shark attacks. From David R. Ellis, the director of The Final Destination, SHARK NIGHT features a sexy ensemble cast who bring a whole new dimension of terror to the screen. Jam packed with exciting extras including "Shark Night Survival Guide" – everything you need to know to avoid becoming human chum – the Blu-ray and DVD comes up for air on January 3rd from Twentieth Century Fox Home Entertainment.
SHARK NIGHT features performances from Sara Paxton (Superhero Movie), Dustin Milligan (Slither), Chris Carmack ("The O.C."), Katharine McPhee ("American Idol," House Bunny), Chris Zylka (My Super Psycho Sweet 16, The Secret Circle), Alyssa Diaz ("As the World Turns"), Joel David Moore (Avatar) and Sinqua Walls (The Second Half).
The moment Sara (Sara Paxton) and her friends arrive at her parent's Louisiana lake house, the party is in full gear. Everyone is having a blast until Malik (Sinqua Walls) loses his arm in what initially appears to be a tragic wake-boarding mishap. Determined to get him to the nearest hospital as quickly as possible, it isn't until they're far from shore that they realize the lake is teeming with hungry sharks, and a tiny speedboat isn't about to stop them from getting their next meal. As the feeding frenzy begins, Sara and her pals realize that their only hope for survival is to swim for their lives!
SHARK NIGHT is available on Blu-ray and DVD on January 3rd. Incentive Film Entertainment and Sierra/Affinity's SHARK NIGHT was theatrically-released by Relativity Media on September 2, 2011.
SHARK NIGHT DVD Features:
● Shark Attack! Kill Machine! – Use this feature to jump to your favorite kills quickly
● Ellis' Island – A cast appreciation of what Shark Night director David Ellis brought to the film
SHARK NIGHT Blu-ray Disc Features:
All of the DVD features, plus…
● Shark Night's Survival Guide – Everything you need to know about the sharks in the movie to avoid becoming human chum!
● Fake Sharks Real Scares – This behind the scenes featurette focuses on the use of both animatronic and CGI sharks in Shark Night
● Digital Copy