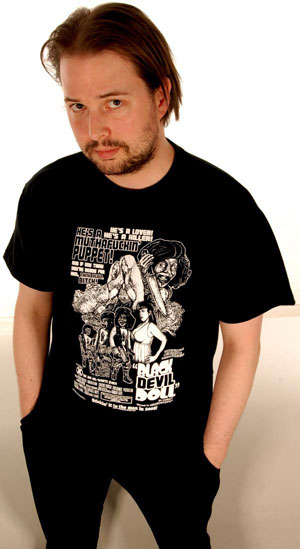 Christian Sellers is the editor of GoreZone magazine out of the UK. He's interviewed some of the genres best and has seen and done pretty much what ya need to in order to climb to the top. He stopped by to give us a piece and trust me, he had some pretty funny stuff to say! Check out my interview with Christian Sellers:
Dai- How long have you been in the horror industry?
"Not long really, a couple of years I think. It is something I always wanted to do, I've always loved writing, but I was never really sure how I would ever get the chance. One day I came home from work and I had had enough, so I quit and went to study screenwriting at university. I was disillusioned with the whole student life, I really thought that I would get to meet other passionate writers, but most of them seemed pretentious. But while I was there I got to develop my writing, and for my dissertation I wrote about slasher movies, so I learnt early on how important research is. But it took a while after I graduated for me to find a way to break into the industry."
Dai- How did you get started critiquing horror films?
"I've always wanted to make movies, but I've always enjoyed talking about them as well, so it seemed the next natural step to write for a magazine or website. I regularly bought horror magazines, so I laid them out in front of me on the bed and decided which one I would go for. I had only bought a couple of issues of GoreZone, but I liked the slick look and I figured that a magazine that was only eighteen months old would allow writers a little creative freedom. I had spent the previous six months researching and writing articles on the likes of John Carpenter and the Coen Brothers, so the chance to write about proper horror movies was very appealing. I emailed the editor, who responded in a matter of minutes, and he said he was interested but wanted a sample of my writing. He gave me ten days to write an article on Poultrygeist, I submitted it in three! I spent the next week wondering whether I had the job, and eventually emailed him on the last day as I just wanted to be put out of my misery. To be honest, I had been given so little feedback on my work up until that point I wasn't even sure if I was a good writer. Thankfully he said yes and I've been with them ever since."
Dai- What made you decide to take the job?
"Gorezone came along at the perfect time. I had decided that it was time to take the next step and get myself noticed, but I was unsure how I could do it. Where I grew up was hardly an artistic town so I had no idea how to break out of it. The magazine's editor, Bryn, gave me a shot at getting myself published, and thankfully he seemed pleased with what I wrote. I know that any success that follows is partially thanks to that first break."
Dai- Is this something you've always wanted to do?
"Definitely! I've always bored my friends with my pointless film trivia,
and I've been a fan of horror since I can remember, so I think this was inevitable. And there is something about seeing your name in print which makes it all worthwhile."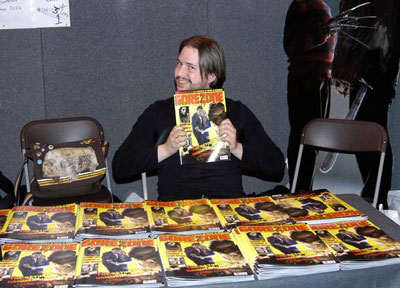 Dai- You are now the editor of GOREZONE magazine. What is like like having such a great but also daunting position?
"I don't think I have to deal with a fraction of the stress that the editor deals with. Becoming a deputy editor didn't really change anything, I've always tried to do what I could to make sure the magazine gets noticed. I think the biggest thing I did was replace the old MySpace page with one that interacted with our readers more. The older one was very rarely updated, so I'm usually on there doing something every day. But most of the credit should go to the editor, I'm just there to pick up the loose ends."
Now for the fun stuff! :)
Dai- What is the best film you have reviewed?
"I finally got to see Poultrygeist a year after I had written an article on it. Troma sent me a screener through and it was a movie I had got really psyched about while researching. You've got to love Troma, they're cheap, gory T&A movies, yet they have done so much for independent filmmakers. A lot of their work is hit-and-miss, and I hoped that this one would be everything a Troma movie should be. It's outrageous, offensive, perverse and the last thirty minutes are the goriest I've seen since Braindead (Dead Alive), and to top it all off it has some hilarious songs in it. I'm not usually a fan of musicals, but Lloyd Kaufman is definitely still in touch with his inner child so the songs are full of toilet humour. You try to act like a responsible adult, but who doesn't find farts funny?!"
Dai- And the worst film?
"There was one film that I wrote about which will remain nameless. All I will say is that the director is a hack, his wife is a bitch and his film was a piece of sh*t!"
Dai- What is your personal favorite movie?
"I try to narrow it down to one movie and, depending on my mood, but it seems to change each time. If I want something frantic I'd go with Re-animator, for surreal I'd choose Suspiria and for pure terror I'd say The Thing. But if you asked me tomorrow, I'd probably say something different."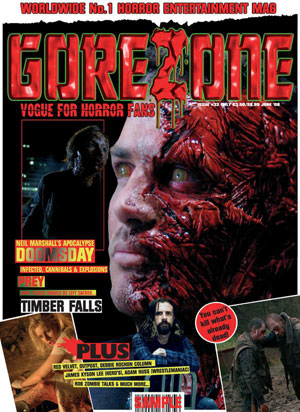 Dai- Who has been the funnest for you to interview?
"Hmm, I can't say any of the interviews have been 'fun' as such. For an interview to be successful you have to make sure that it plays out a certain way, that you get the answers that you need, so it can be quite stressful at times. But some have certainly been interesting. The first phone interview I did was with FX artist Greg Nicotero (of KNB). I found out about an hour or two beforehand, and I had to get a train, so I got off at a station and conducted the interview in the waiting room with a notepad and pen. I pretty much made the questions up on the spot, but as I was familiar with much his work (Evil Dead 2, Pulp Fiction, Hostel, etc) so I had plenty to ask. What impressed me the most was how passionate he was about movies, he seemed just as much of a geek as the rest of us. An interview is always more enjoyable when the person in question enjoys what they do."
Dai- Is there someone you have yet to work with that you would like to in the future?
"One day I want to write films, that's always been my ambition. I think most writers want to create something of their own, so hopefully I'll get my chance. And if I do there are plenty of filmmakers that I would love to collaborate with – Dario Argento, John Carpenter, Joe Dante, Richard Linklater, George Romero,
Dai- What do you think are the differences between the horror industry in the US vs. the UK?
"The horror industry in the UK is almost non-existant. There are a few people worth mentioning, such as Danny Boyle, but I think horror filmmakers here get very little support from the industry. Shame really, because when we get it right (28 Days Later, Shaun of the Dead) it can be something special. The UK have a very bleak view on life if our movies are anything to go by, so we bring something dark and gritty to the genre, but these films are few and far between. Our industry seems content on recycling period dramas and gangster films. The American movie industry is far more productive, but a large percentage of what it produces is sh*te! Still, the US indie scene is always worth keeping an eye on as it produces some real gems, just a shame that the studios seem content to remake everything!"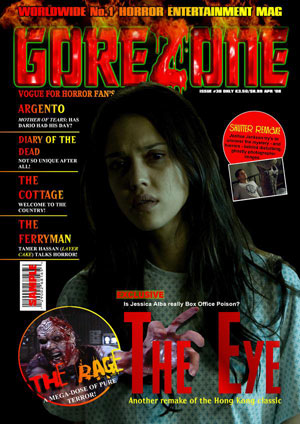 Dai- What's next for you?
"That's difficult to say. This is such an unpredictable industry that things can change in an instant. I have a few possibilities, including a graphic novel, but nothing is set in stone and everything is in the early planning stages so it will all take time. But I'm a stubborn bugger so I'm constantly trying to find new ways to take over the world."
Dai- Any last words for me and our readers?
"Make every day Halloween!"
For more on Christian Sellers and GoreZone magazine visit:
www.myspace.com/christiansellers
www.myspace.com/gorezoneofficial
www.gorezone.co.uk
Thank you guys for joining us and from Christian, HorrorNews.net,
and OF COURSE me…
Interview: Christian Sellers (GoreZone Magazine)