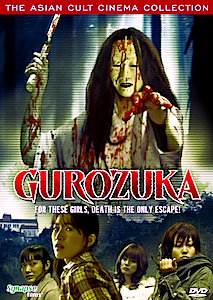 Synapse Films seems to be really putting out a smattering of films this year, of course we have a special place in our hearts for another scary Asian thriller….check out Gurozuka
A fun getaway turns into a journey to Hell for some unlucky teenage girls visiting an isolated house to rehearse and perform a play for their private movie club. Taking the trip with an adult chaperone, the girls learn that a previous club member supposedly went missing in the house, and another went insane! Shortly after they arrive, a mysterious videotape is found with footage of a violent killer wearing a Japanese 'deigan' mask. Is this footage faked—or real? Soon the girls' food and equipment disappear, and one of the girls is hauned by ghostly visions of the masked demon. Someone–or something–is in the house, and gruesome death awaits those who cannot escape!
Synapse Films presents Yôichi Nishiyama's GUROZUKA, a stylized horror film in the J-Horror tradition of the genre-bending Japanese classic, THE RING, and the frightful ferver of SCREAM.
A terrifying horror film in the tradition of THE RING and SCREAM!
Special Features:
• The Making of GUROZUKA – Featurette
• Original Trailer
Disc Info:
Director: Yôichi Nishiyama
Starring: Nozomi Andô, Yukari Fukui, and Yûko Itô
Run Time: 85 minutes
Release Date: January 10, 2012
Language: Japanese Language / 2.0 Stereo
Subtitles: English
Aspect Ratio: Anamorphic widescreen (1.85:1)
Format: DVD
Region: Region 1
Price: $24.95