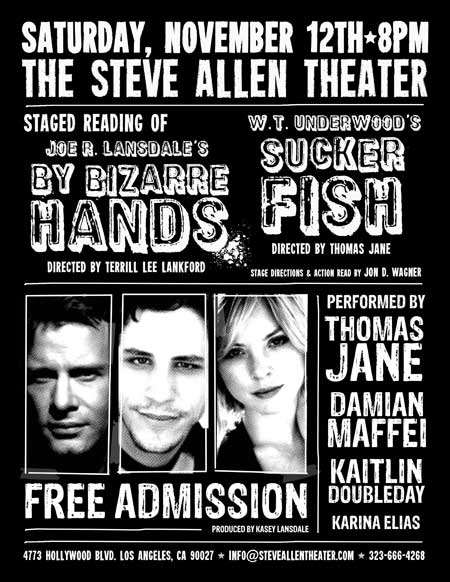 Fans of horror fiction will be treated to a rare opportunity as Thomas Jane and Damian Maffei present and star in the world premiere reading engagement of By Bizarre Hands and Suckerfish. The two will be joined onstage by Kaitlin Doubleday (Hung, CSI, Brothers and Sisters) and newcomer Karina Elias at this free event, which takes place at The Steve Allen Theater on Saturday, November 12th at 8pm.
By Bizarre Hands is a one act play by award winning author Joe R. Lansdale. The play tells the tale of a preacher going door to door, finding a little girl and her mother on Halloween, and their realization that the preacher isn't exactly who he claims to be. By Bizarre Hands will be directed by renowned novelist/filmmaker Terrill Lee Lankford and produced by Kasey Lansdale.
Suckerfish, the classic dark existential play by W.T. Underwood, will be presented under Thomas Jane's direction and Kasey Lansdale's production. Suckerfish tells the tale of Hank, a Member of Society who merely wishes to be rescued from the grips of a city street corner and the epic homeless man, police officer, and dwindling grip on reality that stand in his way.
This is a staged reading, a unique opportunity to see the raw creation of this theatrical event in a relaxed environment, and a chance to be involved in something during its creative development.
With just 99 seats available, this will be an intimate gathering with a feedback session to follow.
For more information, please contact:
The Steve Allen Theater
4773 Hollywood Blvd.,
Hollywood, CA 90027
Phone: (323) 666-4268
Email: info AT www.steveallentheater.com