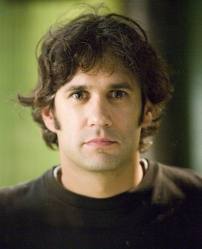 Paul Campion is the New Zealand based director of new Kiwi horror film, Devil's Rock. You can read a review of the film "The Devils Rock. 
So…you're a horror film director – best job in the world?
PC: Absolutely! Horror films have always been a huge part of cinema, and its great to be working in the film industry now trying to make horror films to entertain and scare people.
There are lot of US readers of Horror News – will they get a chance to see Devil's Rock?
PC: Yes! We sold the US rights to the US distributor eOne back at the Cannes film festival in May, and I think they're planning on releasing it in early 2012, probably straight to DVD. Keep watching the Devil's Rock facebook page for more details.
Where did the inspiration for the film come from? 
PC: It all started in Guernsey in the Channel Islands back in Nov 2009 when I was invited to screen my short film Eel Girl at the Cine Guernsey film society. I was interviewed by the local newspaper who asked if I knew of Guernsey history of witchcraft, which I didn't but straight away I did some research and found out about the Bad Books, supposedly books of black magic that exist in the Channel Islands. Then while I was there I saw one of the huge German fortifications left over from the German occupation in WW2, and thought it would be a great setting for a horror film. I just put those two elements together, tied it in with Hitler's obsession with the Occult and came up with the basic idea of Allied commandos discovering a Nazi plot to summon up a demon, using one of the Bad Books that they've found on an uninhabited island in the Channel Islands.
Tell us more about the grimoires you researched – they sound genuinely spooky.
PC: Those are genuine. There are several copies locked away in library vaults in the Channel Islands, which I managed to take a look as as part of the research process. They range from books of folk magic – making your chickens lay more eggs or giving a thief who stole from you warts,  all the way up to the far more ominous books of black magic, which appear to have instructions about summoning Lucifer and Beelzebub.
What's been the reaction to the film?
PC: It's done a lot better with horror fans and press than the mainstream – someone described it as a 'marmite' film – marmite being an English/NZ spread you put on toast, which people either love or hate – which I guess is a fair analogy.  But horror fans are really enjoying it – they get what kind of film we were trying to make. It's not your usual hack and slash gore film, and a lot of people have praised it for being an intelligent and well acted horror film.
What's your favourite part of the film process and why?
PC: Probably the writing and research.  Filmmaking is ultimately about storytelling and everything boils down to script, story, and characters. I really enjoy the research process as well – the research we did on WW2 special forces for The Devil's Rock really changed my perception of war and the military, to the point now where I have one WW2 film I'm developing and have several others I'd love to remake, such as the Cockelshell Heroes, which was a true WW2 story about a raid by 10 commandos who paddled up a river in Bordeaux by kayak to plant mines on German ships.
Who and what are your horror influences – books, film, TV, actors, directors etc?
PC: TV I grew up being scared to death by Dr Who, and a lot of old 70's tv shows like The Tomorrow People, Blakes 7, Space 1999, and Sapphire and Steel. Books – anything by Clive Barker, but particularly his Books of Blood short stories (I'd still love to adapt The Yattering and Jack, maybe Rawhead Rex and Hell's Event – also I'd love to try and put his novel  Weaveworld up on screen). Directors – I've been a huge fan of Ridley Scott since Alien, Sam Raimi of course for Evil Dead 1 & 2 (and Drag Me to Hell), James Cameron, Steven Spielberg, Michael Mann, Guilllermo Del Toro, Martin Scorcese. Films – Alien, Rosemary's Baby, Evil Dead 1 & 2, The Exorcist, American Werewolf in London, The Thing, Ringu, Ju-on, Dark Water (all the Japanese originals), The Eye, The  Haunting (the original Robert Wise version), Ravenous, I could go on and on. I've also been heavily influenced by a couple of artists, mainly John Bolton and Les Edwards who I've had the pleasure of working with on The Devils' Rock.
What's your favourite horror film of a) the last 10 years and b) all-time?
PC: In the last 10 years, Tomas Alfredson's Let the Right One In. I thought it was just incredible – at its heart a love story, but it was also funny, creepy, bloody and incredibly stylishly shot. I love the book as well. All time favourite would have to be Alien, with Rosemary's Baby and Evil Dead 2 a close second.
Do you believe in the supernatural? Any personal experiences you'd care to share?
PC: I don't disbelieve – I always wanted to go ghost hunting to some of Britain's most haunted spots to see if there was anything really there. I did have a weird experience a few months ago back in East London when I was working very late, around 2am, and I thought a girl in a white dress walked up behind me and looked over my shoulder to see what I was doing on the computer. There was nothing creepy about it, very benign, but also I'd been working long hours so it might just've been that I was very tired and it was my imagination working overtime.
What's the next project for you?
PC: We're currently working on the story for Devil's Rock 2, and right now I'm writing the script for Dark Hollow, based on the novel by Brian Keene, and also writing a WW2 action true story called Scorpion Raiders, about a daring raid by the Long Range Desert Group, a combined New Zealand and British special forces patrol that operated thousands of miles behind enemy lines in North African desert. That project actually developed from the research we did into the history of the SAS, the SBS and New Zealand's involvement in WW2 for Devil's Rock.
What advice would you give budding horror film screenwriters and directors?.
PC: Screenwriters – keep it simple, don't get too precious about it and get as much feedback on it from people you trust. Directing, just surround yourself with the best cast and crew you can and then step back and let them do their jobs.
What will you be doing for Halloween?
PC: I'm not sure yet, probably a going out to a party – I'll be in New Zealand and it's not quite such a big thing here as it is in the US.
Interview: Paul Campion – Director (The Devil's Rock 2011)