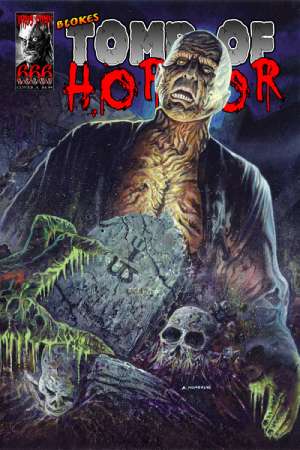 Issue: Blokes Tomb Of Horror #666
Writers: Jason 'Bloke' Crawley, Lyndal Ferguson, Mixtress Mary DeSade, Alessio Landi, Fabrizio Fassio & Valentino Sergi
Artists: Alfredo & Alessio Nocerino, Alberto Lingua, Vincenzo Balzano, Lyndal Ferguson, Mirko Benotto, Tony Karnes, Alessandro Borroni, Silvano & Renato Stevanato.
Publisher: Virus Comix
Release Date: April 2011
Pages: 52
Price: $4.99
"Created and put together by writer Jason 'Bloke' Crawley this latest issue contains 7 devilishly delightful tales brought together to form the hellish Issue 666. This is but one of 6 different cover variants for this issue so be sure to check out the other covers that are available here on Indyplanet including the Cover F wraparound Werewolves Vs Vampires!"
Artwork: 4.0 out of 5
6th issue means 6 different covers! Can you believe that! 6 Covers to choose from and they are all above, Grade A top choice visual meat! The interiors on this one are on the level with the past issues. Nothing is short of Gore-geous from page to page, but Borroni stood out the most to me. Every story has a different look, and they all look great. However I am downgrading it by .5 of a point because… the final story is in pencils compared to the inks of the rest of the book. It just takes a little bit away.
Story: 4.0 out of 5
What I like most about reading these issues is the growth of my buddy, Bloke, as I see his writing progress and really pull it into perfection. I loved 5 of the 7 stories and like 2 out of those last 2. Haha, made ya think I hated something. I won't even go out a limb and say I had a favorite because I think you should buy it and read them all. Nothing here is rushed because it's a short either, each story has a great start and a great finish.
Dying Breath: 4.0 out of 5
This issue has everything you need and it's not from the big 2. Variant covers, amazing art and killer stories. This title is on its way to being the next collection that Dark Horse gives us in hardcover format. I have said it before, and your making me tell you again, check out Blokes Tomb of Horror already!
If you would like to buy or know more about Blokes Tomb Of Horror #666 you can find it at viruscomix.ning.com/
Blokes Tomb Of Horror – Issue 666